Phoenix rise again: Seahawks drop nail-biter at Trask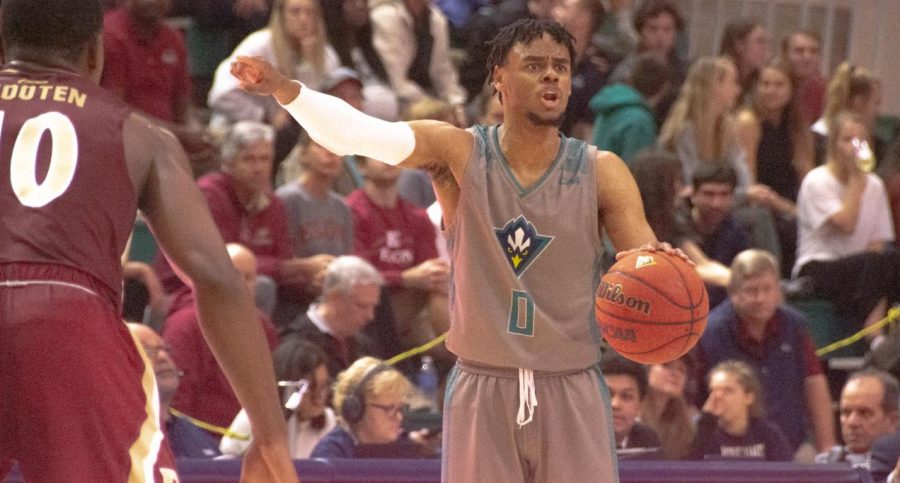 WILMINGTON – UNC Wilmington (7-18, 2-10 Colonial Athletic Association) sparked a late run in the second half to force the game to be decided in the final seconds. However, Marcus Sheffield put Elon (8-17, 4-8 CAA) on his back while pouring in a game high 18 points to complete the season sweep against the Seahawks.
The story of the first half for UNCW – turnovers. The Seahawks coughed the ball up 11 times and allowed 14 Phoenix points off of those turnovers. Nevertheless, UNCW picked up the intensity on the defensive end, much to interim head coach Rob Burke's satisfaction, and closed out the first half trailing 30-23.
It was evident the Seahawks were missing their star point guard, Shykeim Phillips. The freshman sensation is currently sidelined as he goes through concussion protocol.
"It's a next man up situation for us," said Burke. "The grind has definitely hit. But we have enough in the locker room. I feel confident with our roster that we can come out, especially with the energy that Trask provides, and play well. It's all hands on deck…everyone has to be ready to play."
UNCW's Ty Gadsden had a team-high 15 points and was responsible for all three of the Seahawks' three-point field goals, going 3-for-7 from deep on the night.
"We can't rely on the crowd to pick our energy up…we have to do it ourselves," said Gadsden. "We play in 48 hours, so we can't hang our heads…there's no looking back, only forward."
Neither team could buy a basket in the second half. UNCW finished the game shooting 36 percent from the field and a forgetful 18 percent from beyond the arc.
"They need to take the lid off of our basket…I'll talk to them (maintenance) about it in the morning," Burke said jokingly. "We had a heck of a defensive performance; we just couldn't score on the offensive side tonight."
Burke continues to show his energy and passion on the sideline, despite the hardships he and the Seahawks have endured this season. When you watch him during the game, it is easy to see that he truly cares for his players and wants nothing but the best for his team.
"We are going through growing pains right now, but we will get through it because they won't quit. I love each and every one of them," said Burke. "These boys are becoming men… I am proud of their fight."
UNCW will have its homecoming showdown with William & Mary on Saturday, Feb. 8 at 7 p.m. at Trask Coliseum. With only six games remaining, the Seahawks will look to put an end to their three-game losing streak and light a spark, as the CAA tournament looms around the corner.