Seahawks fall to Cougars in regular season finale
McGrath: "They made some baskets and we didn't get the stops we needed to get."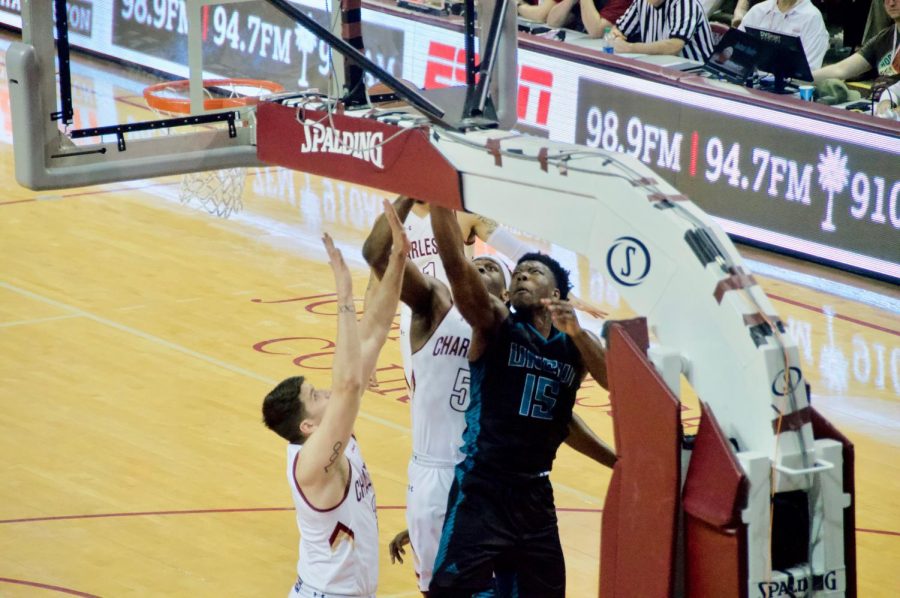 Brandon Sans, Sports Editor
March 3, 2019
CHARLESTON — UNC Wilmington men's basketball concluded its 2018-19 regular season with a 70-61 loss against College of Charleston on Saturday inside the TD Arena.
The Seahawks (9-23, 5-13 CAA) have lost their final three games on the road after an inspirational victory over Colonial Athletic Association leader Hofstra and now will have a week to prepare for the CAA tournament.
Close but no cigar
It took the Seahawks until the 15:42 mark to score its first basket. By then the Cougars (23-8, 12-6 CAA) had already built an 8-0 lead.
The Seahawks would go toe-to-toe with the Cougars the rest of the way, but the first four minutes and 18 seconds of unproductive basketball were enough to bury UNCW. Despite rallying to tie twice early in the second half, the Seahawks never lead in the game.
UNCW shot 28 percent from the field in the game and made only seven baskets in the second half.
"We kept competing. Kept battling, especially in the second half," said UNCW coach C.B. McGrath. "I was proud of our guy's effort, but at some points, you have to make the shots to win."
The Cougars attacked the interior, outscoring the Seahawks 42 to 20. UNCW did outrebound Charleston by five but were limited without Shawn O'Connell who was held out with a concussion suffered last weekend against William & Mary.
It was the right conclusion to a regular season's worth of close. 13 of the Seahawks' 18 conference games were decided by single-digits. The Seahawks went 4-9 in those games.
"It's a microcosm of our season," said UNCW coach C.B. McGrath. "Right there and a couple plays go the other way…We haven't made the plays, in the end, to get us enough victories to give us the confidence that we're going to do it every single time."
Cacok and Brantley conclude rivalry
Forward Devontae Cacok lead the way with 16 points and 18 rebounds but was matched by Charleston forward Jarrell Brantley (23 points, 10 rebounds) on his Senior Day.  It was Brantley who rejected Cacok when his layup would've pulled the Seahawks to within one possession late.
It was only fitting that Brantley's block ended four year's worth of battles between the big men whose career's somewhat parallel. Cacok went 5-1 against the Cougars in his first two years including two CAA championships while Brantley has swept the season series these last two years to go with last year's CAA title and a chance for another next weekend.
"I like good players in the league," said Charleston coach Earl Grant who picked up his 100th career coaching win against UNCW. "I hate to see [Cacok] leave. He's one of the guys who made the CAA very competitive. I'm sure he's got a bright future ahead of him."
First to Worst
In a span of two years, the UNCW program has gone from two-time CAA tournament champions to bottom of the conference. It lost nine of its final 10 games and will play in the first round of the tournament for the first time since 2014.
The Seahawks will face off against Elon who swept this year's season series. Both games were decided by single digits. If the Seahawks fail to the Phoenix for the third time, it will be their first season not winning 10 or more games since Buzz Peterson's final year in 2013-14.
Sports Editor Brandon Sans can be found on Twitter @bsans10. Any tips or suggestions should be forwarded via email to bms8544@uncw.edu.