Weiss leads third straight UNCW comeback victory
Scalf: "There's no doubt we're going to improve at the plate to handle things offensively."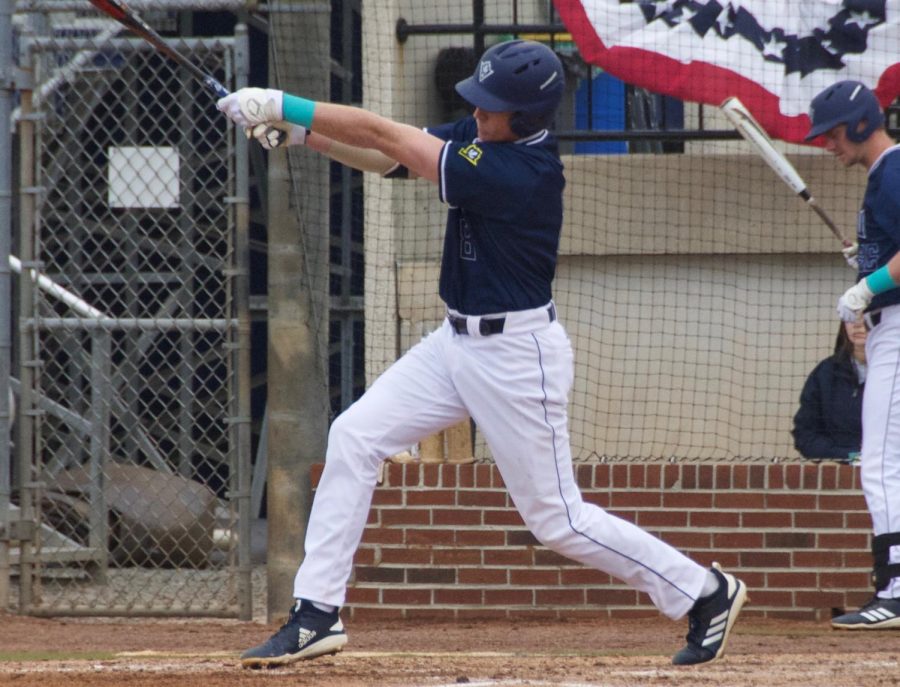 Brandon Sans, Sports Editor
February 19, 2019
After a dreary start that matched the weekend's weather, UNC Wilmington baseball mounted its third comeback victory of the year with a 5-3 win against Virginia Military Institute on Saturday afternoon at Brooks Field.
Comeback kids
The Seahawks (3-1) trailed by two or more runs in each game this weekend. It forced them to rely on late-game heroics, this time in the form of junior Cole Weiss.
Weiss hit a two-out RBI single to left field that scored sophomore Greg Jones to give UNCW the lead it would not relinquish. Weiss concluded the weekend hitting 5-for-14 with a team-high five RBI. Coming up in the clutch isn't new for Weiss who was named MOP of last year's CAA tournament.
The Seahawks scored 11 runs in the seventh inning, just as many as they've scored in the first six innings of their first four games this year. They won't overpower any opponent this year, but the young Seahawk team showed the toughness required to be a competitive out each game.
"I think we're fairly tough," said coach Mark Scalf. "We're very versatile from a position player standpoint."
Teal Herring
Gage Herring knew he'd have to go deep.
UNCW's bullpen had thrown 16.1 innings over three games in two days. Herring responded by delivering four innings of one-run ball over 70 pitches. He struck out the side in the first inning.
Even as his command slipped at times, Herring competed throughout the day that ended when he worked out of a bases-loaded, no outs jam in the fourth. The confidence extended throughout the day for the Seahawks who did not allow a hit to seven Keydets batting with the bases loaded.
"We're going to have a really deep pitching staff when its all said and done," said Scalf. "Once its all said and done and we get enough guys out there who'll have an opportunity to get their feet wet."
Junior Ryan Henry closed out the final three innings to give him his second win of the year. Henry pitched five innings between Saturday and Sunday which helped the bullpen from being further taxed. 
No time to Coast(al) 
UNCW continues its eight-game homestand against rival Coastal Carolina at 4 pm. The Seahawk split the series last season with both teams winning at home.
The Seahawks and the Chanticleers went thirteen innings in the second of those meetings before catcher Ryan Jeffers hit a walk-off home run. Jeffers was drafted in the second round of the last summer's MLB draft by the Minnesota Twins.