Seahawk Spectacular: Sharpe hopes to bounce-back from injury-shortened season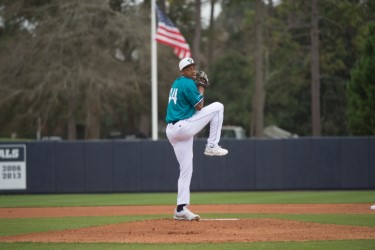 Hang on for a minute...we're trying to find some more stories you might like.
Editor's note: UNCW baseball opens the 2019 season on Friday against Saint Joseph's. The Seahawks are fresh off their second Colonial Athletic Association championship in three years and seek their sixth conference title in program history. In anticipation of this season, The Seahawk is diving into different storylines to follow over the next few months.
UNC Wilmington baseball hopes to regain an important pitcher it missed for most of last season's team that won the Colonial Athletic Association tournament.
Junior pitcher Zarion Sharpe's freshman year went as well as possible. He ascended to the Saturday night starter role behind staff ace Alex Royalty, completed the Seahawk's lone complete game of the 2017 season and was named to the CAA All-Rookie team.
Expectations were high for Sharpe, but a shoulder injury limited him to five starts last season. In his absence, pitcher Landen Roupp enjoyed his own breakout freshman campaign and tied a UNCW freshman record with 15 starts, a majority of them in the Saturday role reserved for Sharpe.
"Take the opportunity and run with it," Sharpe said on Roupp. "Don't look at it as 'I'm only here until someone else comes back.' Take it, it's your job. You have to do what you have to do to help us win."
Instead of harping on what might have been, Sharpe became a student of the game. He focused on tendencies and worked on changes to his pitching mechanics for a cleaner delivery that should limit the stress he puts on his body. As the season wore on, he began to notice what hitters expect to see in certain situations.
Fast forward to February and Sharpe says his shoulder at "80 percent." He plans to begin bullpen sessions soon and will wait to see how his arm responds before a return date will be targeted. For now, he's expected to miss at least the first three weeks of the season.
Once healthy, it's unclear how Sharpe will be used. He's only thrown 21.2 innings since his freshman year and pitched past the fifth inning in only one of his starts last year. That will be up to coach Mark Scalf and new pitching coach Matt Myers, who already has built a strong relationship with many Seahawk pitchers including Sharpe.
"It's great, we all love [Myers]," said Sharpe. "Funny guy, high baseball IQ, high pitching IQ. All of our guys top to bottom have made great strides in their pitching ability."
For his part, Sharpe doesn't know how he'll be used once he's healthy enough to return, nor does he care. After failing in the CAA championship round his freshman year and missing the NCAA tournament last season, Sharpe is determined to help the Seahawks any way he can to achieve their goals this season.
"I don't look at last year as a missed opportunity," Sharpe said about missing last year. "Try to think of it as everything happens for a reason, you know, come back better."