'Icehawks' fall to UNC Charlotte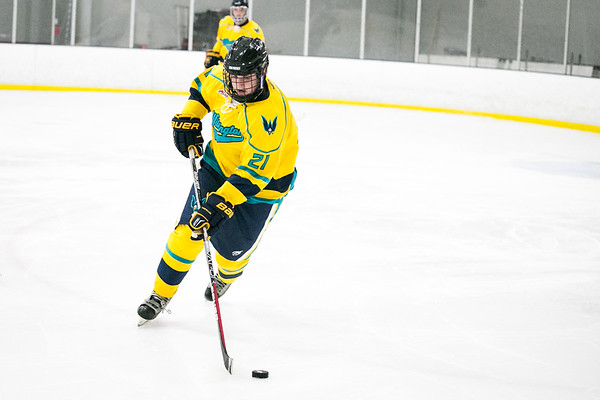 CHARLOTTE– UNC Wilmington club hockey dropped their penultimate game of the season to UNC Charlotte by a final of 9-4 Saturday afternoon. With the loss, the 'Icehawks' fall to 3-11-3 on the year.
How it happened
UNCC (11-8-2) started strong with two Andrew Miller goals including a shorthanded goal within the first five minutes of the game to give them a 2-0 lead. Sophomore Logan Young answered with two goals in a 16-second stretch to even the game for the Seahawks.
"We were going down on the two on one and it was me and Danny (Brescia). Tried to go for the one timer pass and Danny went wide. He picked it up and I saw he was cutting through the middle, so I tried to cut around in front and he passed it to me on a one timer. It was a good goal," said Young about his power play goal to cut into the 49er deficit.
There were four other goals scored by the end of the first period. UNCC got three from Michael Rea, Greg Driscoll and Miller, who finished off a first period hat trick. Michael Benedetti added a goal for UNCW with 1:33 left in the period to make it 5-3 game after one.
The 49ers added to their lead between the second and third periods as they were able to add on four more goals. One of these goals came 21 seconds into the second period from Chase Wiriden. UNCW added a late goal with 2:08 left in the third period from Jonathan Backus to give UNCC their 9-4 win.
Kent Mclaughlin returns to the lineup 
In the win against Coastal Carolina last Saturday, the Seahawks played four defensemen as both Kent Mclaughlin and Tyler Dunphy were out. Mclaughlin was suspended for the Coastal game due to fighting in the previous game against College of Charleston.
Mclaughin's return was a boost to UNCW due to the hard work he brings to the ice and his ability to solidify the defensive pairings for the Seahawks per assistant coach Peter Gilinson.
"Every shift that he is out there he is always trying to get better and as a result, he is our number one defenseman," Gilinson said postgame. "He's the leader when it comes to being the most stable and most trustworthy on the back line."
Power Play struggles
It has been documented that the Seahawks practice the power play like all hockey teams do. However, because UNCW has had players in and out of the lineup all year, this has challenged the Seahawks in terms of how productive they are on the man advantage. Case in point this afternoon.
"Part of the problem is new players," said Gilinson. "There's a bunch of guys that have been out that would normally be on the power play, so that means that somebody new has to come in and they are not as familiar. It makes it a little bit tougher to make it click."
Looking ahead to next year
With one more game in Hillsborough this upcoming Friday against Carolina East division opponent Duke left, the 'Icehawks' will look for something to build on as they head into next year.
"In divisional play, we haven't been that good (this year)," said Young. "We had a close game against Chapel Hill and State is the mark, but I definitely think that we should play hard against Duke and set the tone for next year."
"They know Duke and they know the situation," said Gilinson. "Nobody knows what is going to be next year in terms of who is coming back and what it is going to be. I hope the guys go out with a good attitude and they make the last game this year, the first game of next year."