Seahawks complete weekend sweep, knock off Towson in Sunday matchup
Barefoot: "I'm proud of the effort."
Elijah Mize, Staff Writer
January 21, 2019
Hang on for a minute...we're trying to find some more stories you might like.
For UNC Wilmington women's basketball, the joy and jubilation of Friday night's historic win over James Madison had to quickly be put aside as current Colonial Athletic Association-leader Towson (11-6, 5-1 CAA) came to town with an undefeated conference record of its own. 
Big performances from Lacey Suggs, Shrita Parker and GiGi Smith led the Seahawks to a come-from-behind 77-73 victory over the Tigers, extending the Seahawks' undefeated streak in Trask Coliseum to 8-0.
Lights out fourth quarter
"We knew it was going to be a battle and we knew it was going to be tough," said UNCW head coach Karen Barefoot.
Tough it was, as the Seahawks (11-5, 4-1 CAA) needed a big fourth quarter to overcome a seven-point deficit as the final period began. The 'Hawks were outscored 21-10 in the third period as Towson started to find a rhythm. 
The Tigers would use the third quarter to claw their way to a seven-point lead on 10-of-19 shooting from the field while the Seahawks only attempted nine shots total and managed to make only three.
Converting 4-of-6 free throws allowed UNCW to total 10 points in the period compared to Towson's 21. 
The leading-scorer in the CAA, Kionna Jeter, made her presence felt as well scoring 13 of her game-high 28 points.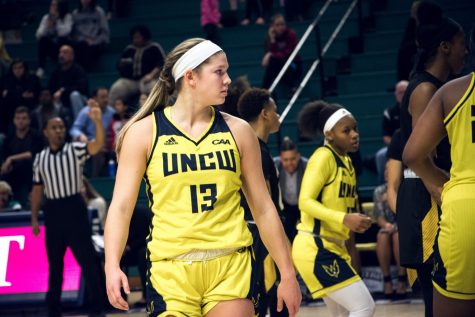 Welcome to The Lacey Suggs Show 
Early on, it was a back and forth game seeing 11 different lead changes in the first quarter.
The Seahawks used a strong first half from Suggs, who scored all but three of her team-high 20 points in the first two periods. For the White Lake, N.C.-native, it was the breakout scoring performance Seahawk fans have been expecting.
Barefoot showed high praise for her junior guard with a simple question. 
"What about Lacey Suggs in the first half? My gosh!" Barefoot said with a smile. 
Everyone in attendance had a first-hand view of the first-half show Suggs displayed. 
For the second game in a row, redshirt senior Parker delivered some late-game heroics. Parker finished with 17 points — 10 of which came in the fourth quarter. Her last two buckets gave the Seahawks a 72-71 lead with 1:19 left before extending that lead to 74-71 with 32 seconds left. 
"One thing about Shrita is, she's a gamer," said Barefoot. "Like, in the fourth quarter, she knows when to kinda take over." 
When asked what has contributed to her late-game success, especially recently with games on the line, her answer was that of a player who knows what she wants.
"My mindset is just, I guess you could say is Kobe," said Parker. "Kobe's my favorite player, so that mamba mentality."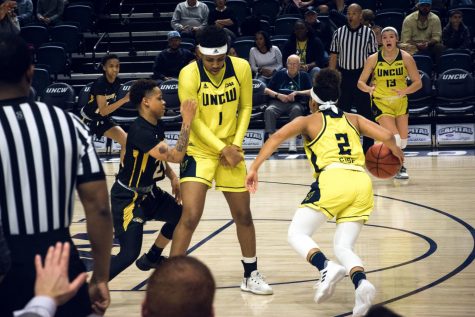 Smallest player on the court makes the biggest play of the game  
Junior guard Moriah Crisp, who is listed at a generous five-feet-two-inches tall, showed up in a big way late in the game. Her contributions may not jump off the stat sheet, but for Crisp and the Seahawks, her late-game hustle and defense on Jeter was what ultimately decided the game. 
Crisp finished with six points, two assists and two steals. Over the final 55 seconds of the game, she drew a charge that led to Parker extending the lead to 74-71. The biggest play of the game — and for Crisp — came with just 11 seconds left as she stole the ball from Jeter and called timeout. 
Smith was immediately fouled after the timeout before converting both free throws and giving the Seahawks a 76-71 lead. Smith finished with 18 points and three rebounds.
By the numbers 
Overall, both teams contributed to 15 different lead changes in the game. 
UNCW held the largest lead of the game at 12 points in the second quarter, while Towson's largest was seven in the third quarter. 
Towson won the turnover battle, committing just 11 to the Seahawks' 12. The Tigers also scored more points from those turnovers, outscoring the 'Hawks 17-13 in that category. 
Towson's athleticism and size looked like it could have posed a problem in warmups but UNCW put that doubt to rest by the final buzzer, outscoring the Tigers 36-32 in the paint. The Seahawks also managed to beat Towson in total rebounds 35-31.
By the second quarter, the Tigers were turning to a zone defense because they had no answer for the Seahawks' smaller, quicker guards who were able to dribble drive and win one-on-ones with ease. 
Up Next
UNCW will look to further its current three-game winning streak when the Seahawks travel to Delaware (6-11, 1-4 CAA) on Friday, Jan. 25. That contest is set for a noon tipoff.