Seahawks shake up CAA standings in come-from-behind conquering of JMU
Barefoot: "I'm happy for this program."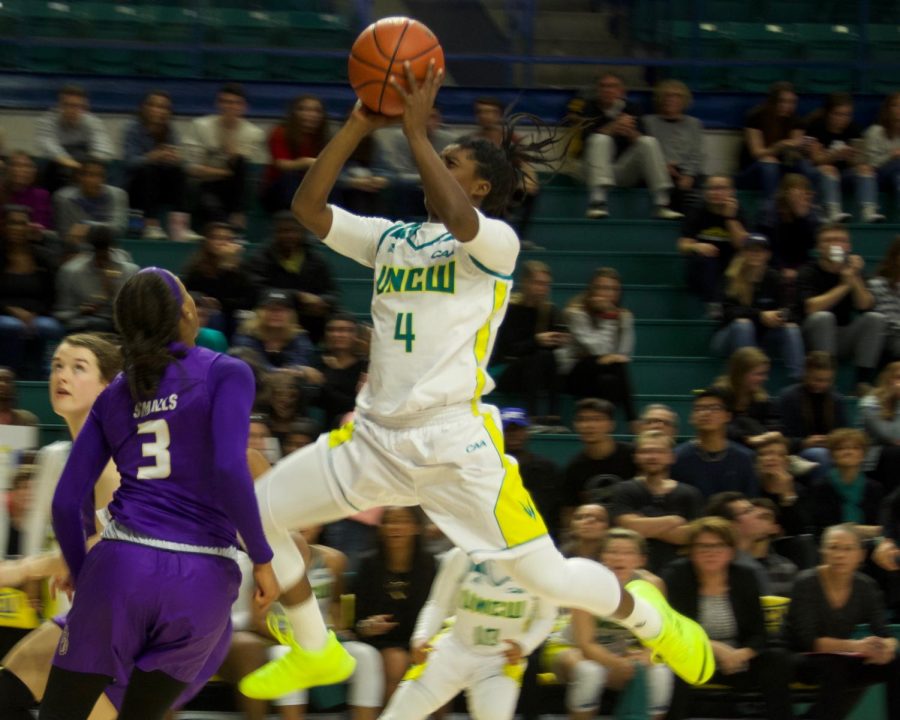 Lanre Badmus, Staff Writer
January 19, 2019
UNC Wilmington women's basketball has grown accustomed to battling through adversity this season, having already come from behind late to steal road wins against East Carolina and two-time defending Colonial Athletic Association champions Elon.
But when the Seahawks came back from a 13-point deficit to stun conference preseason-favorite James Madison at Trask Coliseum on Friday night following a Shrita Parker game-winning three-pointer, something about it just felt different.
Perhaps it was the fact that it was the first time the Seahawks (10-5 overall, 3-1 CAA) had beaten the Dukes (12-4 overall, 4-1 CAA) since 2010, snapping what was a 17-game losing streak. Or perhaps it was the home crowd's energy being in favor of head coach Karen Barefoot's team.
Breaking voodoos while staying grounded
Whatever the main factor in the victory, the Seahawks now find themselves sitting in the top three in the conference with three wins from four games, after it had taken the 'Hawks eleven games to register one conference win last year. Some fans even suggested that Friday's thriller, on the back of the recent Elon victory, was a program-changing win.
Having now knocked off both the defending champs and the league leaders in the same week, Barefoot made sure to keep her players grounded.
"I think that there is definitely a buzz out there about UNCW. I'm just trying to keep them level-headed," said Barefoot. "We still have a lot of work to do, and we're excited about how we're playing."
How it happened
Parker's go-ahead jumper with 1.9 seconds remaining gave the redshirt senior the most crucial of a game-high 20 points on 6-of-11 shooting and 3-of-4 from long range. Junior guard Ahyiona Vason added 18 points on 8-of-10 shooting from the field off the bench while redshirt junior guard GiGi Smith chipped in 11 points and three assists.
Junior guard scoring duo Kamiah Smalls and Lexie Barrier paced JMU with 19 and 12 points respectively.
Although the Seahawks were down by nine heading into the fourth quarter, they opened up a 13-0 run over the first five minutes of the period, taking the lead through a three-pointer from junior guard Lacey Suggs with 4:52 remaining.
Following the game, Parker admitted that she had to take time to process what had just happened.
"After it went in, I almost passed out," said Parker with a laugh. "I was just like, 'Oh snap, we just beat the No. 1 team.'"
Vason came off the bench and provided an instant spark, and her drives through the lane and long threes were pivotal to the Seahawk effort.
"It was great, brought me back to some old times," said Vason. "I honestly felt like I was at home tonight, like I was able to do whatever I wanted. Pass, dish, and score."
Taking on personal challenges
Vason also mentioned that Barefoot challenged both her and Parker to become better leaders after their loss at William & Mary last weekend. Having taken their coach's words to heart, the pair spoke it out and decided to keep their heads up.
Barefoot hypothesized on Thursday that her team's "teal-collar" mentality was going to be the difference in an expected "dogfight" of a game. She was proven right.
"It's a great win. I'm super proud of them," said Barefoot. "I'm happy for this program, I'm happy for them. It was a great, great win and we had to really earn that one."
With that victory, the Seahawks remained undefeated at home while also handing the Dukes their first conference loss of the season, knocking them down to second place. It would be easy to say that UNCW now has a target on its back as a result.
Parker, however, quickly shot those notions down and instead asserted that she and her teammates still view themselves as underdogs until they win a conference championship.
"To us, we're still the underdogs. Until we win that CAA championship, we're still the underdogs," said Parker. "I don't really see a target on our backs. If anything, there's a target on everybody else's back, because we're trying to knock everybody."
Up next
The Seahawks made a big statement on Friday night. Sunday afternoon presents a chance for an even bigger statement: new conference-leader Towson. That game is slated for a 2 p.m. tipoff.