Seahawks drop close game to Davidson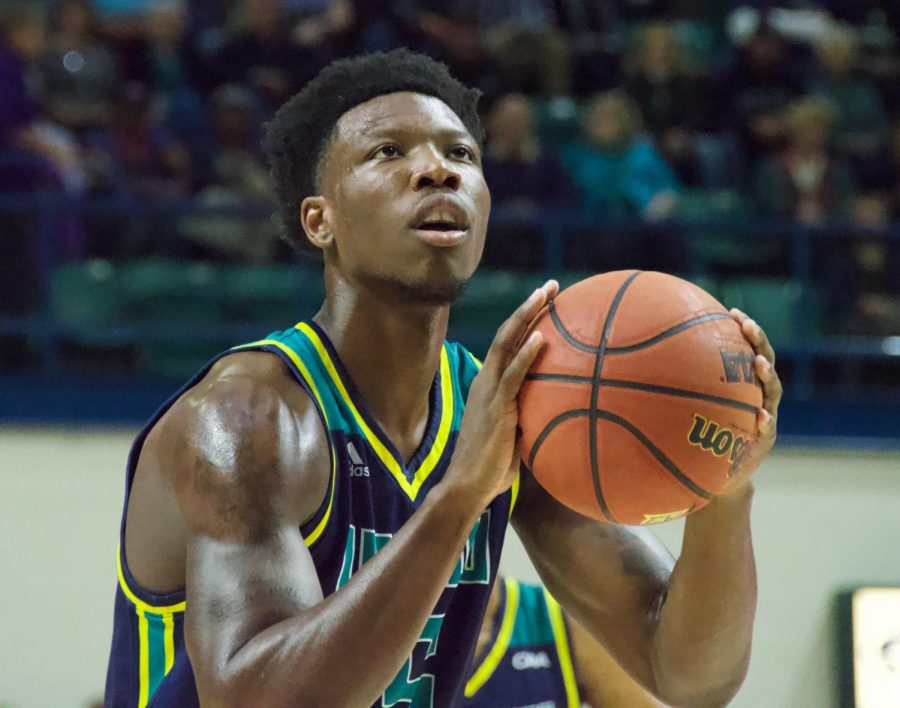 Lanre Badmus, Staff Writer
December 2, 2018
The UNC Wilmington men's basketball team had four players in double figures including a double-double from Devontae Cacok, but it was not enough as the Seahawks fell 91-85 at home to Davidson on Saturday night. 
UNCW (4-5) had a big night from Cacok. The senior forward scored 19 points on 7-of-13 shooting and grabbed 13 rebounds. Redshirt junior forward Jeantal Cylla also scored 18 points on 5-of-11 shooting and 3-of-5 from three-point range. Redshirt junior guard Ty Taylor and freshman guard Ty Gadsden also chipped in with 14 and 12 points, respectively. 
Despite the balanced scoring and winning the battle of the boards 37-30, UNCW had no answer for Davidson's two star players, Jon Axel Gudmunsson and Kellan Grady. The sophomore guards, both of whom lead the Wildcats (7-1) in scoring this season, combined for 50 points (25 each) on 17-of-26 shooting. Gudmunsson also added seven boards and eight assists, playing the entirety of the 40 minutes.  
Redshirt freshman guard Luke Frampton chipped in 15 points going 5-for-10 from behind the arc, and freshman forward Luka Brajkovic had 13 points.  
In a tight game that had 12 lead changes and seven ties, it was Davidson's shooting that made the difference. As a team, the Wildcats shot 65 percent from the field in the second half and 57 percent from the field overall, as well as 77 percent from the free-throw line. 
"Davidson was just a little too good offensively for us tonight," said Seahawks second-year head coach C.B. McGrath postgame. "They got into a rhythm tonight and it's hard to take them out of what they do. Those two guards (Gudmunsson and Grady) really scored a lot of points for them and made some tough shots." 
McGrath went on to say how he felt his team's defense was good for the most part, but the offense was hit-or-miss in terms of confidence and intensity at certain points. He gave the Wildcats credit for their victory. 
A three-pointer from Taylor gave the Seahawks a 61-54 lead with 10:02 remaining in the game but they could not hold on for the victory. Every time the Seahawks made a run, the Wildcats answered.  
"We did answer them pretty good in the second half, but it shouldn't have come down to answering," Cylla said postgame. "We had a couple of stops down the stretch, but as coach always says, it's a game of two halves instead of one." 
UNCW shot only 38 percent from the field in the first half but improved to 47 percent in the second half. They also had a season-low nine turnovers for the game in a sign of progress.  
"I'd definitely say that we're making more progress," said Cacok. "[Paying] more attention to detail, taking care of the ball, we're realizing that we have to get shots without turnovers. Realizing we got to take care of the ball is a big key to the game, and we're starting to adjust more and have more responsibility." 
The Seahawks gear up for a four-game road trip starting with a visit to the Triangle for a matchup with no. 11-ranked North Carolina on Wednesday night. The game is set for a 9 p.m. tip-off and will be aired on ESPN2.