Media Day marks beginning of men's basketball season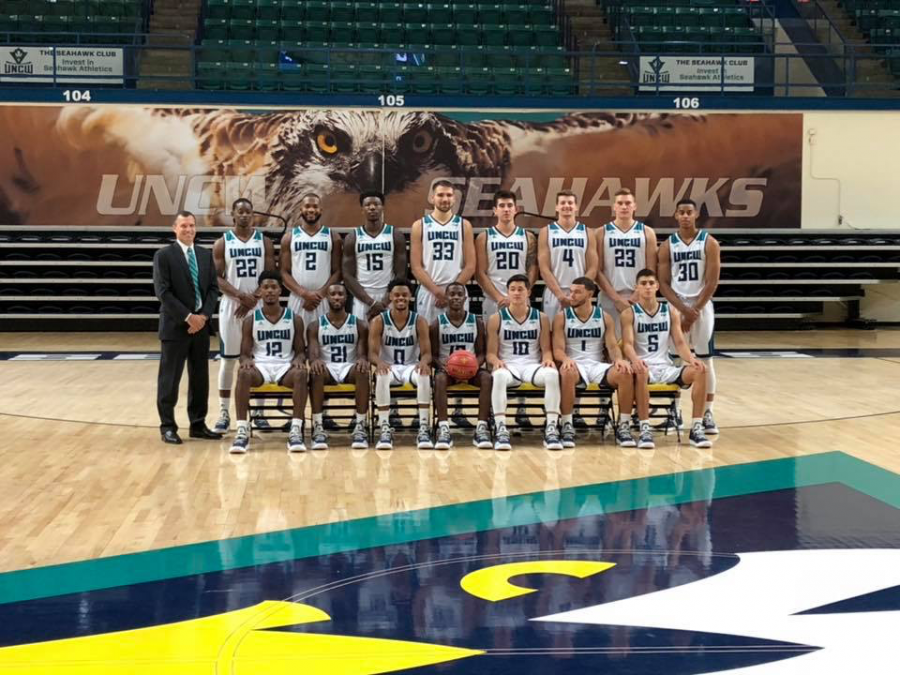 Brandon Sans, Sports Editor
October 17, 2018
UNC Wilmington men's basketball hosted its annual Media Day in Trask Coliseum on Wednesday afternoon.
It gave members of the media a chance to chat with coaches and players on the 2018-19 Seahawk squad as they prepare for their second season under coach C.B. McGrath. Below are some highlights of the day:
McGrath finds comfort in Year Two…
Every day represented a new "first" for McGrath, who ran his own program for the first time in his career. As he navigated through all the nuisances of being the head boss, the Seahawks began to play better.
"He showed great poise throughout the season in getting the guys to continue to believe," said assistant coach Jackie Manuel. "I think it's the reason why we started playing better basketball towards the end of conference play."
The Seahawks knocked off third seed Hofstra in its opening round of the Colonial Athletic Association tournament before falling to eventual runner-up Northeastern the next day. That success has sparked optimism at the onset of this season.
"Chemistry-wise, we're ten steps ahead of where we were last year," said Fornes. "Player-to-player, player-to-coach, I like the direction we're heading in. We know what it takes to win."
…but Hurricane Florence forced adjustments
Hurricane Florence forced the Seahawks to begin practice at the Dean E. Smith Center in Chapel Hill before it was safe to return to campus, but now that they are back and classes have resumed, it's as if they didn't miss a beat.
"It's been different than anticipated because of how we started the season," said McGrath. "Now it feels like we're into it. We're back on campus, there are other students around. It's what we're used to."
Another adjustment the Seahawks made was adding the charity exhibition with Clemson on Oct. 27.
Despite the obvious benefits of staging a benefit game, the loss of the closed-door scrimmage with Coastal Carolina means less time to run controlled sets against an opponent. Often these closed-door scrimmages provide both teams a chance to play out different scenarios in a game-setting so coaches know where their teams stand against the competition.
"I called [Clemson coach Brad Brownell] and asked if there's something he wanted to get some work against," said McGrath. "We can work against each other in practice, but our guys know what we're going to do. It's not like you're getting game-type practice in."
Hoopers, not performers
After taking a moment to discuss the possibility of his jersey hanging in the Trask rafters one day (another story for another day), senior Devontae Cacok was asked who is the best rapper on among UNCW hoopers. He laughed before the question could be finished.
"I don't know if we got any of that on our team," said Cacok. "I don't know about that one."
It did take junior guard Jaylen Fornes a few moments to consider who the best dancer on the team is before ultimately being stumped by the question.
"There's a lot of guys who try to dance," said Fornes. "I don't know if they're really successful at it."
Perhaps redshirt junior Jeantal Cylla?
"I hate to say this but … nah, Jean's not the best dancer. I don't think we have a good dancer."
If baskets are falling through the net, it won't matter who raps, sings or dances best.