NLCS preview: Brewers, Dodgers clash for NL pennant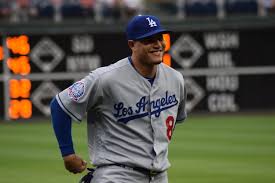 Elijah Mize, Contributing Writer
October 12, 2018
With both the American League Championship and National League Championship matchups set, the top two teams from each League are set to battle for an opportunity to go to the World Series. Each Series will be a best-of-seven matchup to determine each league's representative in the World Series.
This is familiar ground for both the Houston Astros and Los Angeles Dodgers as they will both look to win their second straight league pennant, while the Milwaukee Brewers and Boston Red Sox are each looking to take home one of their own.
Here is everything you need to know before the NLCS begins. For ALCS coverage click here:
National League Championship Series
The Dodgers are no stranger to this stage as this their third consecutive trip to the NLCS where they hope to claim their second consecutive pennant. This will be the Brewers third championship series trip and first since 2011. The last time the Brewers won a pennant was 1982 when the team was in the American League.
If you seek a David versus Goliath matchup, the Dodgers team payroll sits third overall in MLB at just under $200 million while Milwaukee is in the bottom nine at just over $108 million. Though their payrolls may differ, the talent on both rosters may be closer than the total team payroll may suggest.
Los Angeles is led once again by its three-time Cy Young-winning pitcher Clayton Kershaw who finished this season with a 9-5 record, the first time he has failed to win 10 games in a season since 2009. This has led to the emergence of NL Rookie-of-the-Year candidate Walker Buehler who started 23 games for Los Angeles and finished with a record of 8-5 and ended on a strong note winning four of his final six games striking out 45 hitters over 39 innings.
Adding to an already talented group during the July trade-deadline, Los Angeles ended up getting one of the best players on the market in four-time All-Star shortstop Manny Machado in a deal with the Baltimore Orioles. Machado was added to a lineup that already included an All-Star and last year's NLCS co-MVP Justin Turner, and slugger Max Muncy who finished tied for 5th in the NL with 35 home runs.
The turnaround for the Brewers began way back in January while Opening Day was still over two months away. Brewers General Manager David Stearns acquired outfielders Christian Yelich and Lorenzo Cain through trade and free agency, respectively.
Upon his arrival in Milwaukee Yelich has set career highs in home runs (36, tied for 3rd in NL), runs batted in (110, tied for 2nd in NL), batting average (.326, won the NL batting title), and on-base percentage (.402, 3rd in NL), all while officially separating himself as the NL MVP front-runner.
Though the offense for Milwaukee has been steady of late, the Brewers bullpen will need to continue to be as solid as it has been all season long. Throughout the regular season, the Brewers bullpen ranked at or near the top in every major relief pitching category including second in the National League in earned run average (3.35), 2nd in the NL with 49 saves, and 2nd in strikeouts with 708.
After a demotion to the minor leagues because of control struggles at the end of August, and then a recall back to the Majors in September, former ninth-inning closer Corey Knebel has since won MLB relief pitcher of the month for September while giving up zero runs and only five hits over 15 appearances to end the season.
Knebel only makes up part of the four-headed monster that makes up the Brewers bullpen, Josh Hader (NL Pitcher of the Month April, set MLB record for strikeouts by a left-handed relief pitcher with 143), Jeremy Jeffress (1.29 ERA, 2nd in MLB among relievers), and Joakim Soria will all have to play a big role at times during this series if Milwaukee wants to advance.
NLCS Schedule
1.) Fri., Oct. 12, @ Milwaukee, 8:09 p.m. ET, FS1
2.) Sat., Oct. 13, @Milwaukee, 4:09 p.m. ET, Fox
3.) Mon., Oct 15, @ Los Angeles, 7:39 p.m. ET, FS1
4.) Tues., Oct 16, @ Los Angeles 9:09 p.m. ET, FS1
5.) Wed., Oct 17, @ Los Angeles 5:05 p.m. ET, FS1 *
6.) Fri., Oct 19, @ Milwaukee, 8:39 p.m. ET, FS1 *
7.) Sat., Oct 20, @ Milwaukee, 9:09 p.m. ET, FS1 *
* If necessary