Reflecting on the madness in the NCAA Tournament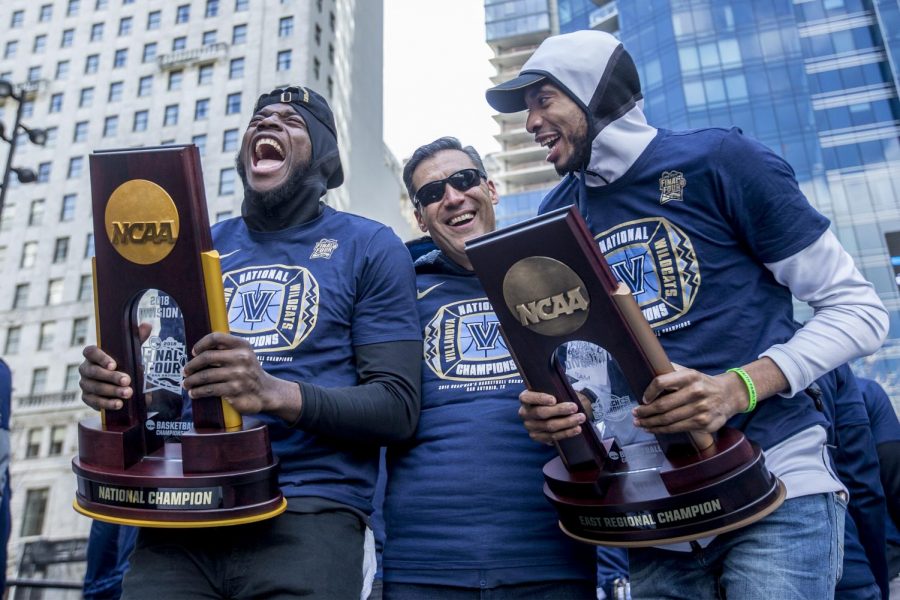 Many sports fans would agree that this year's NCAA Tournament implemented a bit more of the shock factor than tournaments of recent years. And with the national championship game in the books, we can now reflect on the madness that was the 2018 NCAA Tournament.
For starters, a No. 16 seed defeated a No. 1 seed for the first time in history. This was the big one. And social media nearly blew its lid when the final buzzer sounded for the University of Maryland Baltimore County's 20-point win over Virginia.
UMBC Athletics' Twitter account added over 100,000 people to its list of followers in the span of about 24 hours. And a school that was virtually unheard of outside of the Baltimore area was trending on Twitter because its basketball team did the unthinkable.
13-seed Buffalo also made itself known when the Bulls sent 4-seed Arizona packing on night one of the first weekend. The Wildcats were fresh off of winning their third PAC-12 Tournament championship in four years and were predicted, by a large percentage of people, to make the Final Four. But alas, Buffalo out of the Mid-American Conference, had other plans. And the Bulls outscored Arizona 89-68 making for a plethora of busted brackets.
Arizona's loss to Buffalo also ensured that the PAC-12 — who is heavily regarded as a power conference — would go winless in this year's tournament. Joining Arizona on the ride back to the west coast were UCLA and Arizona State who both lost their respective games in the First Four.
Next on the list of teams that were never expected to make it out of the first weekend was 11-seed Loyola-Chicago. Loyola-Chicago was the first 11 seed to make the Final Four since Virginia Commonwealth in 2011. Loyola-Chicago now joins Louisiana State, George Mason, and the aforementioned VCU on the short list of 11 seeds to advance to the semi-finals of the NCAA Tournament.
And upsets don't just come at the hands of mid-major teams. 9-seed Florida State was a prime example of a bracket-busting team coming from a power-five conference. The Seminoles, who finished a modest 9-9 in the ACC this season, managed a run to the Elite Eight with upsets against 1-seed Xavier and last year's national championship contender 4-seed Gonzaga.
"It's interesting that we're probably the only ones that think we were capable of doing this. It's fun because we're always the underdog and we're scratching and clawing to put ourselves in a position to do it," said FSU head coach Leonard Hamilton to AJC Sports following the Seminoles' 75-60 win over 4-seed Gonzaga.
After losing in last year's tournament in the second round by 25 points to Xavier, this year's run was a huge step up for Leonard Hamilton's Seminoles.
Basketball fans everywhere were shocked at many of the results of this year's tournament games.
"It delivered as always," said basketball fan Joshua Marlow. "The first weekend was as wild as ever, with two No. 1 seeds going home and two No. 2 seeds going home as well."
And the craziness doesn't stop at upsets. Statistically, there were a few firsts in this year's edition of March Madness. For instance, Michigan was the first team in NCAA Tournament history to make it to the national championship game without playing a top-5 seed.
And in case you were wondering, "Go Blue" isn't just the battle cry of Michigan fans. As it turns out, since Syracuse's championship season in 2003, every NCAA championship has been won by a team with the color blue on its jersey, with the exception of Louisville's 2013 championship, which has since been vacated.
Perhaps the biggest and most relevant stat of all was Villanova head coach Jay Wright leading the Wildcats to their second national championship in three years. Wright became one of only three active head coaches to win multiple national championships.
Along with Wright, this list includes Duke's Mike Krzyzewski – who won titles in 1991, 1992, 2001, 2010, and 2015 – and North Carolina's Roy Williams, whose titles came in 2005, 2009, and 2017.
This college basketball season was one for the record books. Teams like UMBC and Loyola-Chicago managed to give the phrase "March Madness" a new meaning. And now that the smoke of the 2017-18 basketball season has cleared, basketball fans everywhere can now look forward to next season and its inevitable excitement, suspense, and madness.