Beer happy: How to fully enjoy an adult beverage in the Port City
For some college students, having to choose between shotgunning a Bud or Natty Light is a familiar dilemma, and downing four or five beers within an hour may not be an uncommon activity. Even given this proclivity for drinking, many partakers never consider the why and how of their alcoholic beverage of choice — why certain beers contain more alcohol than others, how much hops versus malts went into the fermentation process, and how it eventually made it to the chilled beer they are grasping.
Thus, the question becomes: How can we come to genuinely appreciate the potent aromas and tastes of beer? To answer this, over the last few weeks, I decided to learn more about beer, where it comes from, what it pairs well with and what it means to truly understand beer.
The simple answer to how beer is produced is barley, hops, water and yeast.
These four ingredients, combined with a process of malting, mashing, boiling and fermentation, make the beverage that ends up in your bottle (or can, tap or keg). According to blog.beeriety.com beer can be carbonated either naturally through this process by allowing CO2 to form through yeast production, or artificially, similar to a soda.
My first stop on this expedition was Wrightsville Beach Brewery, which was nestled in a small corner right off of Oleander Drive.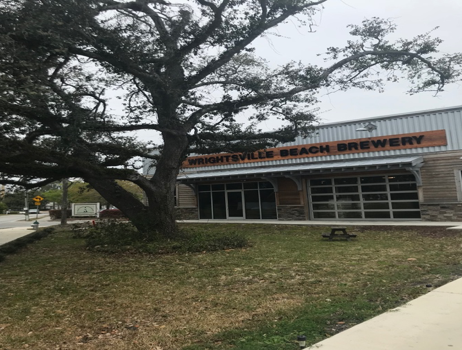 Upon entering the bar, I met Keith, the manager, who has twenty years of bartending experience. I asked for his recommendation on types of beers and how to try a variety in a Flight of Four — essentially a sampler of four six-ounce beers on a wooden plank. He suggested that I try beers that range from light to dark, so I chose the Peach Smash Ale, Waterway India Pale Ale, Airlie Amber Ale and a Shamrock Stout.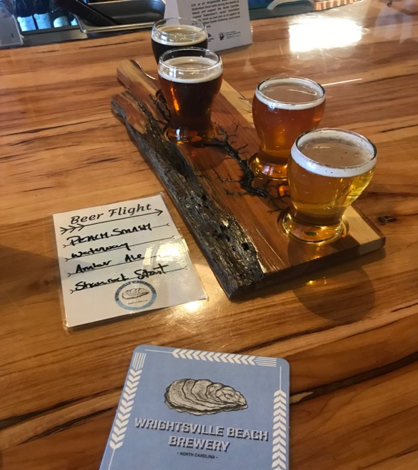 All of the beers I tried were made in-house by Wrightsville Beach Brewery. I began by wafting the top of each glass.
In the Peach Smash, while I got hints of peach aromas, the taste was not overbearing and lighter than expected. The Waterway IPA was a tad darker and had a sweeter taste. It was stronger than the Amber Ale which I found to be very smooth.  Lastly, the Shamrock Stout had a much darker and musky tone to it.
After sampling each beer, I asked Keith to further explain why each taste varied so drastically. He said "maltier" beers tend to be sweeter and contain a higher alcohol content, while more bitter beers tend to have and be more "hoppy." However, this can vary depending on what is added to the beer. The number amount hops in a particular beer is measured through International Bitterness Units, otherwise known as IBU's. Higher the IBU higher the bitterness.
I also asked Keith which beers pair well with which foods. His suggestion was that if you're looking to eat oysters by the beach, a darker stout is going to be a good choice, comparable to if you also tried pairing a stout with red meat.
A further resource for pairing beers with food is brewersassociation.org. The site lays out different beers by style, type and flavor with the best types of foods, cheese and desserts. For example, the site would show that blonde ales pair well with chicken, salad, salmon and desserts such as lemon custard tarts. In comparison, Imperial stouts, like the one I tried at Wrightsville Beach Brewery, are overpowering to most food but are a great combination paired with espresso chocolate cake.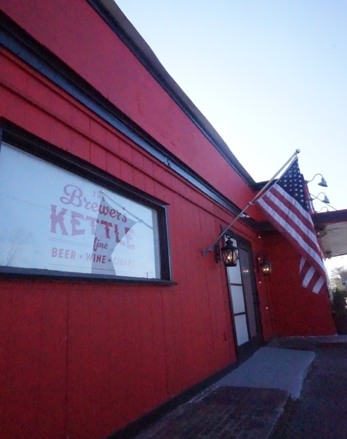 Next, I went to The Brewer's Kettle on Oleander Drive. At The Brewer's Kettle, I tried a similar light-to-dark palette of beer. The four beers I tried were the Funk Buddha Floridian Hefeweizen, the Sweetwater Ground Score, Weyonr Baerner Sour, Deep River Lambic and a small taste of the dark Wicked Weed Milk and Cookies.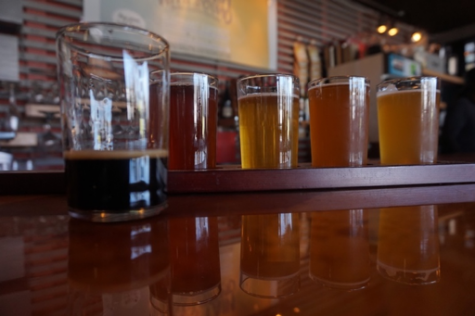 Similar to the Peach Smash Ale from Wrightsville Beach Brewery, the Funky Buddha was light and lacked a sugary taste. Given that the Funky Buddha only had 12 IBU and 5.2 percent alcohol, this made a lot of sense. The Sweet Water was hoppier, with 85 percent hops and 7.1 percent alcohol. The Weyer Baener was smoother, tasted more like a cider and was almost comparable to the Lambic which originated from Belgium and also had a smooth finish. Lastly, the Wicked Weed Milk and Cookies Stout had hints of coffee with a musky taste.
Steve, the bartender at The Brewer's Kettle, was very helpful in explaining a lot of similar concepts and aspects of beer and beer tasting that Keith introduced me to at Wrightsville Beach Brewery. Both breweries support a number of various causes and events every year that give back to the Wilmington area — for instance, at Wrightsville Beach Brewery when you ordered a Shamrock Stout in the month of March eleven percent of the proceeds went back to local oyster restoration movements.
Additionally, in March, the Brewery's Kettle promoted a joint event with UNC Wilmington's Plastic Ocean Project.  The event, called "Sustain with Sound," is an annual music festival to promote healthier beaches and oceans in the local Wilmington area. The festival even included the elimination of any single-use plastic and provided power through solar energy while regional bands and locals came together to support the cause.
Whether you are already a beer connoisseur or a young college student trying beer legally for the first time, knowing what goes into making beer and the why and how behind its tastes and scents can always enhance the experience of kicking back a cold one.
Leave a Comment