UNCW students produce magic with local princess party business
Creating magical experiences for children is all in a day's work for the two women and UNC Wilmington students who co-founded Port City Princess Parties, a local business that brings royalty to your doorstep.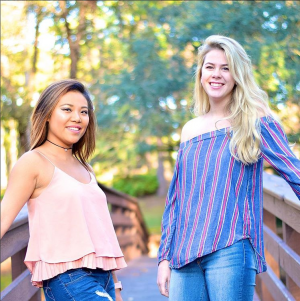 Julianne Castillo, owner of Port City Princess Parties, and Erica Giffen, Vice President, say they have worked together in previous princess party companies, but felt like they wanted to do something different with their business.
"I have worked for two other princess party companies since I moved here," Giffen said. "Since then, I've wanted to start my own. I went into another one, which is how we met, and we just thought we could do it a lot differently and better."
The company offers packages for children's birthday parties where performers dress up as characters and kids are able to interact and play games with the characters. Castillo said the company offers many different activities kids can do with the princesses and other characters at their parties depending on the theme, age and more.
"You can do anything from a range of face painting, singalong, themed character craft, games, and royal makeovers," she said. "In addition to that, we also do complimentary photos and a royal coronation ceremony for the birthday guest."
Castillo said that the business is a great experience for them both and allows them to have more control over decisions and creative aspects.
"We definitely thought that starting our own company together would be a way for her to get her foot in the door with business and increase our ability to have artistic freedom," Castillo said.
Giffen is an Operations Management major at UNC Wilmington and says her coursework was invaluable to the success of Port City Princess Parties.
"I was in Entrepreneurship 380 last semester, so I created my business plan project based off of this business," she said. "That helped a lot because I was learning how to make a business plan on paper at the same time that we would be making a business plan."
One of the main things the women considered when starting their own business was the look and feel of the princess characters. According to Giffen, getting around copyright laws was one of the first things on their radar.
"You can't advertise [a princess] as Elsa," she says. "You have to say, 'Snow Queen' or some kind of generic name. We could mostly just get in trouble about advertising."
The next step was creating and advertising the princesses they had. Castillo said there are multiple ways to go, but they found the route that works best for them.
"There are different types of looks," she said. "There's having costumes that are more movie accurate versus park accurate and we both decided that we wanted our girls to look more park accurate because that's what kids see. It just keeps the magic alive."
Keeping the magic alive for the kids the company serves is at the top of the list for both women. Giffen said it is the most rewarding part of the job.
"A lot of people that book us are not able to afford Disney World, so they look forward to it for a long time," she said. "You never know, that could be the best thing to happen to [the child] their whole year."
In the future, the women hope to expand their business by adding more original characters, superheroes and villains to their character list. They also plan on creating a physical space to host parties to cut down on travel costs and be even more creative with their programming. Castillo says despite all their plans to increase their business in the next few years, there's another aspect of expansion she's looking forward to.
"We also have wanted to do more giving back to the community," Castillo said. "Right now, we do a lot of non-profit visits to the hospital and we have an event coming up with Big Buddy. I also wanted to allow the opportunity for special needs kids to become part of our business."
The company is not currently hiring performers for their character positions, but they are seeking photographers to increase their level of professionalism when creating the princess party experience in someone's home. At the end of the day, that is what is most important to them both.
"Continuing the magic at home is one of the biggest things that we do," Castillo said. "It's not just once they turn off the TV or leave the park, that's the end of it. We're that extension. We're the reason that magic stays alive for these kids."
If you're interested in learning more about this business, go to www.facebook.com/PortCityPrincessParties or follow @PortCityPrincessParties on Instagram.