New-look Diamond Hawks hope to retake CAA mountaintop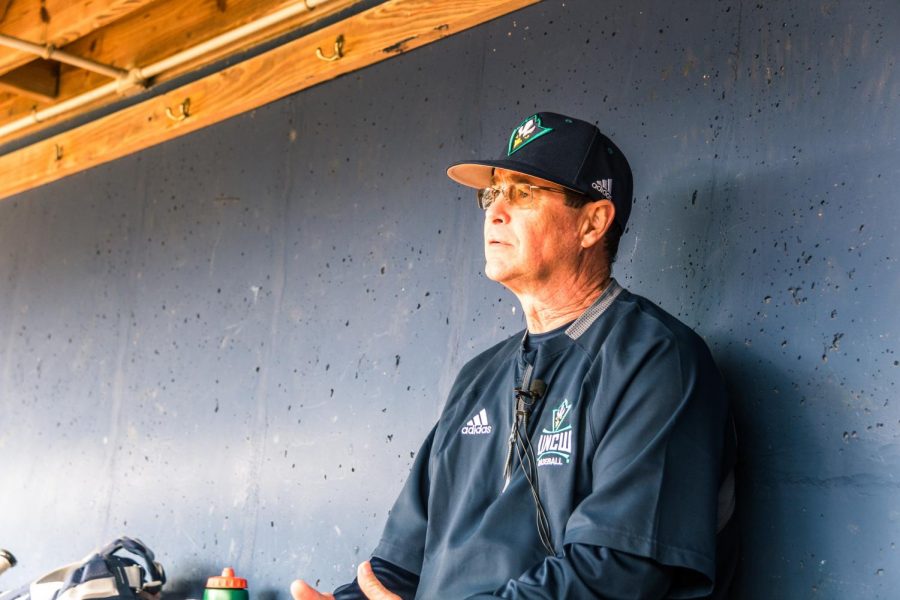 Noah Thomas
Noah Thomas, Sports Editor
February 13, 2018
UNC Wilmington baseball was picked to win the CAA for the third consecutive year in a preseason poll released on Feb. 1. Being picked to win was nothing new for the self-proclaimed Omahawks.
What was new, however, was being picked to win with a roster that sparsely resembled those that brought success in prior seasons. The UNCW team that fought its way to a disappointing loss to Delaware in the 2017 CAA championship series graduated many of the same players that batted the Seahawks to a record year in 2016.
Now, with just two position starters returning to its lineup, the Diamond Hawks will need to find a new formula for success — one that will likely rely on their starting pitching rotation.
At the top of the rotation is reigning CAA Pitcher-of-the-Year Alex Royalty, who pitched his way to 9-2 record, 3.20 ERA and 106 strikeouts. He was the second consecutive UNCW pitcher to earn the honor (Ryan Foster won the award in 2016), and the junior ace isn't done growing as a player.
With the big names in front of himself and his teammates now calling themselves alumni, Royalty is ready to step up and be a leader himself.
"This year more than ever is our time to shine as leaders," he said. "We push guys through things they don't like such as conditioning and heavy-weight training programs. On the field, for me, what's most important is getting guys comfortable on the mound."
Royalty said the 2018 pitching staff feels like the deepest its been in his time as a Seahawk. Behind him in the rotation is sophomore Zarion Sharpe, who debuted in 2017 as the biggest surprise of the freshman class.
In 57 innings, Sharpe collected six wins and just one loss in 11 starts, earning his spot as the starting pitcher on Saturday afternoons.
The UNCW bullpen, too, returns its top relievers in senior Austin Easter (28 appearances, three saves) and Clark Cota (four saves, 3.08 ERA), the latter of whom settled into his role as the team's primary closer after an injury-filled freshman season in 2016.
"It's something that I did well. I think the coaches would agree on that," Cota said of the high-pressure situations. "They want me to be in that spot every time. I want the ball every time … It's something I look forward to doing for as long as I can."
On the offensive side of the lineup, UNCW returns senior Mason Berne and junior Ryan Jeffers as position starters, who between them hit 15 home runs and 59 RBI last season.
Berne, though only in his second season in Wilmington, has become one of the "old men" of the team. Mostly because he's the lone senior with more than minimal experience in the starting lineup.
The influx of talent through transfers and incoming freshmen has made earning spots in the lineup a bit of a free-for-all.
"Everybody's battling for a spot right now," Berne said. "There's a lot of potential and a lot of talent out here, so they come in and get after it in the weight room and in the classroom, so it's hard to beat us all around."
Opening day of the 2018 season is fast approaching — the Seahawks open their annual Hughes Bros. Challenge on Friday against Eastern Kentucky.
Saturday and Sunday will bring games against Butler and Lehigh, respectively. UNCW will be ready.
Returning for his 27th season as head coach, Mark Scalf said the team's hard work in the fall and early spring has them prepared for a marathon of a baseball season.
"The players have put in a tremendous amount of effort," he said. "They have come together as a group and it's probably the closest knit of a club as we've had in a long time. They push one another and I think we truly have been able to put together some pitching depth and some depth position player-wise."
Sports Editor Noah Thomas can be found on Twitter @NoahILM. Any tips or suggestions should be forwarded via email to [email protected] For video updates from The Seahawk, subscribe to our YouTube channel.