Wilmington spilled the beans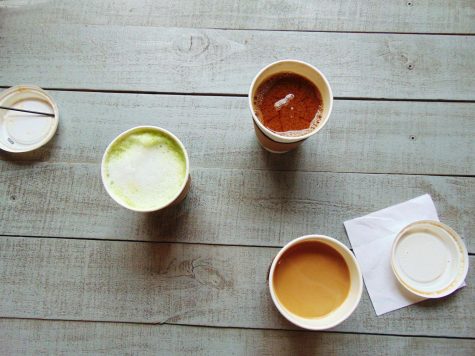 Locals and visitors were invited to enjoy a cup-o-joe from Wilmington's best hole-in-the-wall coffee shops. The first annual Wilmington Coffee Crawl took place downtown on Saturday, January 27. Crawlers were provided a list of stops and were free to create their own itinerary. The event, samples and tastings were free, but each shop ran a list of specials so customers could drink even more coffee for their dollar. The crawl also featured raffles and demonstrations.
Wilmington's independently owned coffee shops have developed strong, long-lasting relationships with their customers, so with the Coffee Crawl, they took the opportunity to give back and make themselves known to the town's coffee fanatics. Community event coordinator Artisan Locale hosted the caffeinated crawl which included five downtown shops with art vendors at each stop.
Java Dog Coffee House
This pet-friendly coffee house (as suggested in the name) brewed some local favorites — Guatemalan, Butterscotch and Mocha Java — for the Coffee Crawl. The shop, located in the Cotton Exchange, brought in crawlers, shoppers and sight-seers alike, so many downtown visitors got a glimpse of what "the Dog" had to offer on Saturday.
24 South Coffee House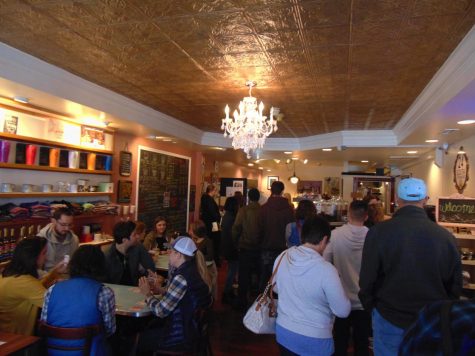 When crawlers stepped into the bustle of 24 South on Front St., they spotted the shop's gorgeous chandelier which mimics the one featured in their logo. For $2, they featured their "Gimme Some Sugar" latte, which is flavored with brown sugar, cinnamon and caramel.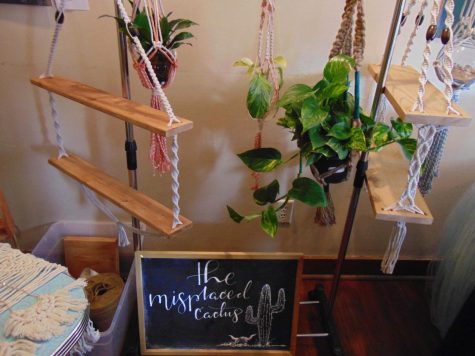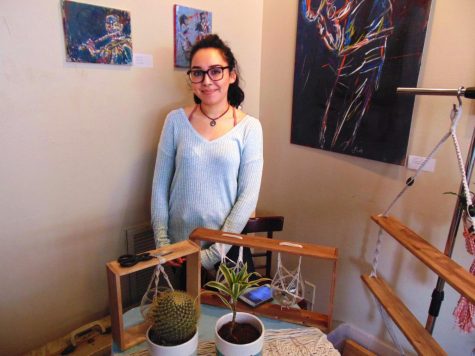 The Misplaced Cactus, based in Myrtle Beach, was one of the featured vendors inside 24 South. Amanda Moore (pictured left) started her Instagram account a little over a year ago on Jan. 1 and since then, has received positive feedback mostly from the Wilmington area; she comes to town about twice a month. "I do workshops with Artisan Locale, so we pop up in random breweries, do crafts and drafts and, most of the times, plant hangers and stuff like that." Wilmington locals have played a huge part in her success at just 23 years-old. Check out her designs on Instagram @themisplacedcactus.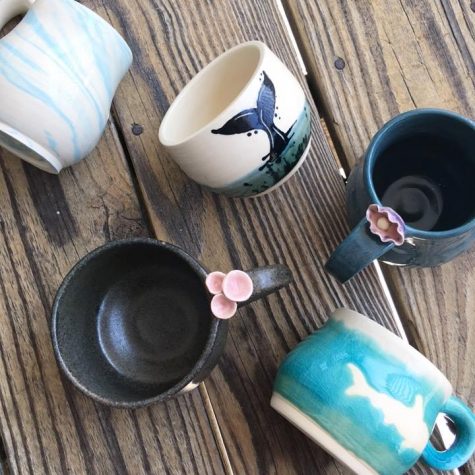 Local potter Stephanie Washburn featured her work in 24 South as well. A lot of her pottery includes oceanic designs–fitting for the Wilmington lifestyle. The name of her business says it all. She does custom designs as well.
Check out Washburn's designs here and add an eye-catching piece to your mug collection.
Brooklyn Café
This little joint near Front St. downtown brought crawlers, friends and family together to enjoy their locally roasted coffee and beignets; they even have vegan ones! They kept the traditional bar crawl experience within the Wilmington Coffee Crawl as they offered donut and beer pairings, $3 mimosas and a wine tasting that day.
Folk's Café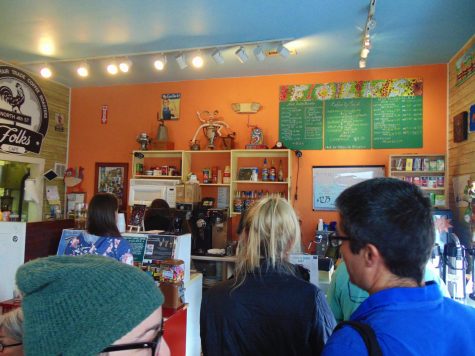 This corner cafe located on Princess St. will remind you of your grandmother's country kitchen — a homey experience. During the crawl, the tiny shop was packed to the brim. If crawlers didn't stand in line to buy their drink of choice, they could taste the shop's brew at a sampling cart out front.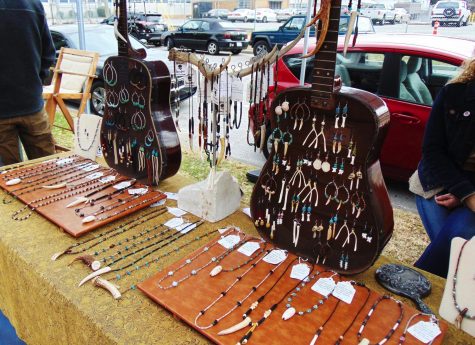 Sarah Brown of Stoned Beautiful Jewelry set up an exemplary display of her designs. She crafts jewelry from natural stones, bones and sterling. The faceless guitars used to hang her handmade earrings represent the rustic earthy theme of her jewelry.
Pick out a piece for yourself at stonedbeautiful.com.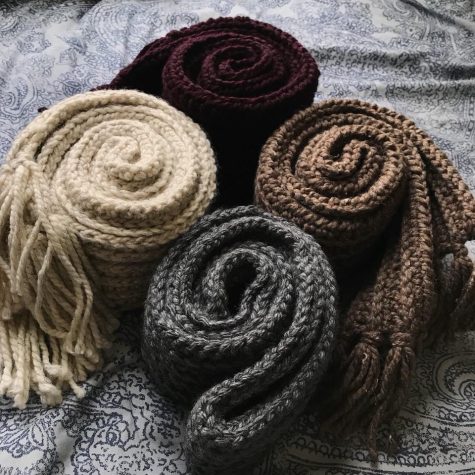 UNCW student Becka Jackson was a featured artist in the crawl at Folk's Cafe as well. Jackson takes time to knit her custom designs, and she believes in quantity over quality when it comes to her work. She sells her pieces on her Etsy account, which she just recently started. She knitted a sweater that took nearly a year to finish; you can check out an article about Jackson by Casey McAnarney here.
Luna Caffè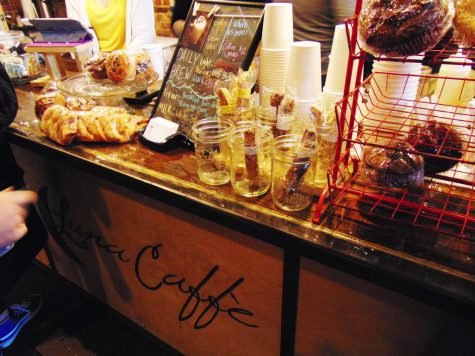 Luna Caffe on Princess St. doesn't just have good coffee; the shop has a "quality time with family" kind of environment. As crawlers stood in line, they could enter a raffle for a French press. Their heads would turn when a Connect Four chip bounced inside the plastic game piece. Yes, the cafe even has games for friends and families to enjoy. The counter was crammed with fresh treats for the coffee crawlers, and once they had their drink in hand, they could nestle into the leather couch against the back wall or grab a seat at a table near the front windows.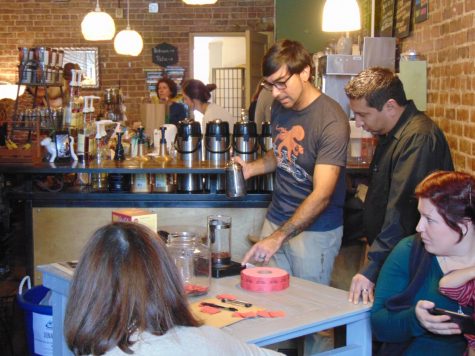 Luna Caffè owner William Chacon gave the crowd a demonstration on how to use a French press while some waited in line and others enjoyed their beverage.
Crawlers who entered Luna's raffle would have the chance to win a French press.
Coffee-lovers got to know the liberating first sip of good coffee all too well at this event. Crawlers left with tummies full of sweet treats and fresh brews–with cream and sugar, of course. Local artisans had the opportunity to shed light on their designs and impress the crowd with their amazing work. The 2018 Wilmington Coffee Crawl was a proven success.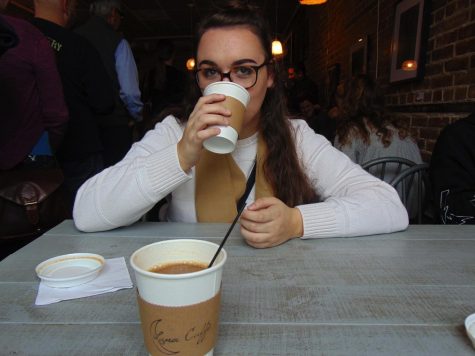 If you couldn't make it to this year's crawl, pay a visit to these shops sometime, and show ILM's independently owned cafes your love and support.
Leave a Comment