Cacok registers monster double-double in 71-68 win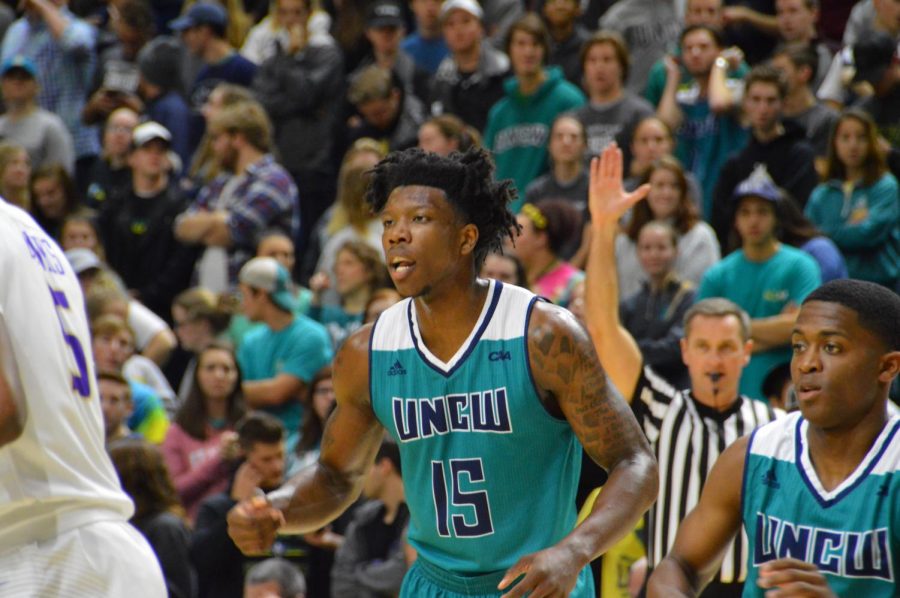 Noah Thomas, Sports Editor
January 25, 2018
Wins have been hard to come by for UNC Wilmington this basketball season.
But after back-to-back wins at home, the latest coming on Thursday in a 71-68 thriller against James Madison, Devontae Cacok and Jordon Talley were all smiles.
Getting to that happy place wasn't easy for the Seahawks — it happened thanks in part to a 26 point, 24 rebound performance by Cacok. It was the most rebounds in a single game by any NCAA Division I player this season.
Talley, proven to have the ability to deliver in crunch time, had a moment of his own when he hit an off-balance three-pointer in front of the UNCW bench with 50 seconds remaining to put his team up by five points.
"I yelled 'Kobe!'" Talley said. "It went in."
Oops, I did it again
Cacok secured his 15th double-double of the year before halftime. He added an additional 12 points and 12 rebounds in the second half before fouling out with five seconds remaining.
He had no idea how big his numbers were until he sat down to talk with media afterward, but the nation's leading rebounder wasn't there to talk about himself as he chocked up the team's success to improved defense.
"We have definitely got a lot more confidence," Cacok said. "Our defense has improved tremendously. That's what has kept us in games, that's what has made us win games. It's all of us coming together and knowing, if we get stops, we can win any game."
Foul trouble, which has hindered the 6-foot-7, 250-pound junior at times was non-existent in the first half as Cacok went into the locker room with zero fouls.
Even when fouls began to pile up in the second half, UNCW coach C.B. McGrath kept his star player in the game. It likely made the difference in the end.
"The more minutes he gets, he's going to get more rebounds," McGrath said. "Getting his shot, it depends on what kind of defense they're throwing at us … Hopefully next time we can do a little better without fouling."
And runnin', runnin'…
After finishing the first 20 minutes on a 13-4 run to take a one-point lead into halftime, UNCW (7-14, 4-5 CAA) traded runs with James Madison in the last 10 minutes of a game that went down to the wire.
The Seahawks went on a 15-2 run, highlighted by a pair of Jaylen Fornes threes, to take an eight-point lead. The Dukes (6-16, 2-7) then went on a 7-0 run to keep things close before Talley's miracle three put UNCW back up by five.
"I like how we keep battling, but I want us to put 40 minutes together defensively," said McGrath. "We sort of do it in stretches, and when we do it at stretches we're really darn good and we go on our runs. They know that. I told them defense is effort more than anything."
And despite multiple questionable calls by officials, the smartest foul of the night came with 5.8 seconds left on the clock. Down two, James Madison's Develle Phillips was fouled underneath the basket by Cacok – his fifth and final foul of the night, but one worth giving.
Phillips, 0-for-3 at the free throw line at that point, stepped to the line. He missed both, securing a UNCW win.
Up next 
The Seahawks, looking to extend their winning streak to three, face William & Mary on Saturday at 7 p.m.
Click here for a photo gallery from tonight's game.
Sports Editor Noah Thomas can be found on Twitter @NoahILM. Any tips or suggestions should be forwarded via email to [email protected] For video updates from The Seahawk, subscribe to our YouTube channel.