Seahawks drop to 0-8 in CAA, fall to JMU at home
Noah Thomas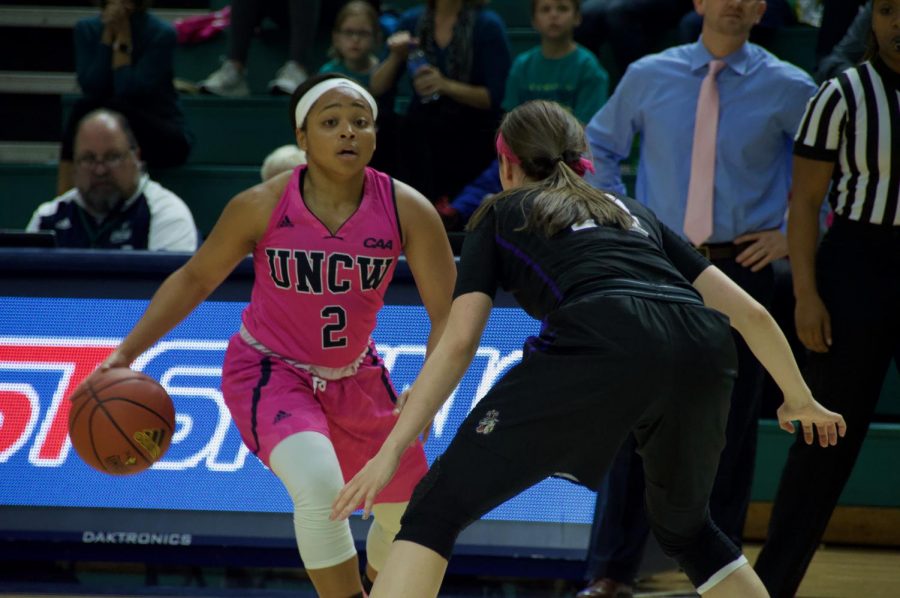 Noah Thomas, Sports Editor
January 21, 2018
With UNC Wilmington's three top scorers struggling to find the basket, sophomore Moriah Crisp stepped up and posted 16 points in a 63-48 loss to James Madison on Sunday.
The Seahawks, after finishing their non-conference schedule 7-4, have lost eight games in a row to start conference play.
Turning it over
Despite hosting the top team in the CAA and suffering from a losing streak, UNCW showed no fear of James Madison.
But turnovers plagued the Seahawks throughout the day. UNCW (7-12, 0-8 CAA) turned the ball over eight times in the first quarter alone, yet only found themselves down by two points heading into the second period.
Aided by its defense as the game continued, James Madison (11-7, 7-0) settled into a groove on and went on a 13-2 run before halftime to extend its lead to double digits.
The run was a result of turnovers. The Seahawks committed 21 total turnovers which led to 25 points on the other end for its opponents.
"It came down to turnovers," UNCW coach Karen Barefoot said. "They really capitalized on our turnovers to points, and that shows the maturity of their team – that they are experienced and they know how to punish you on mistakes, and I think that was the difference for us."
Struggling seniors
Crisp's 16 points – one short of a career-high – came despite the rest of her team, specifically senior captains Madison Raque and Jenny DeGraaf, struggling to score.
"I was just being aggressive and focusing on getting my confidence back," Crisp said. "I've been in a slump lately… But I was still looking for my teammates."
Raque was held scoreless for the first time this season. DeGraaf scored seven points on 3-of-7 shooting. Leading scorer Lacey Suggs scored her first and only points on Sunday with 5:09 left in the game.
With the initial lineup not working, Barefoot went to the bench for support, resulting in Raque playing just five minutes in the second half.
"Madison's been off here and there, but I want to continue to grow other players and get them some experience," Barefoot said. "She took a hit toward the end, so it was an opportunity to see if other players could step up."
Up next
The Seahawks will play their next three games on the road. They return to Trask Coliseum on Friday, Feb. 9 against College of Charleston.
Want to see a photo gallery from today's game? Click here. 
Sports Editor Noah Thomas can be found on Twitter @NoahILM. Any tips or suggestions should be forwarded via email to [email protected] For video updates from The Seahawk, subscribe to our YouTube channel.