Seahawks out-tough Fighting Camels, pick up second win in 88-84 thriller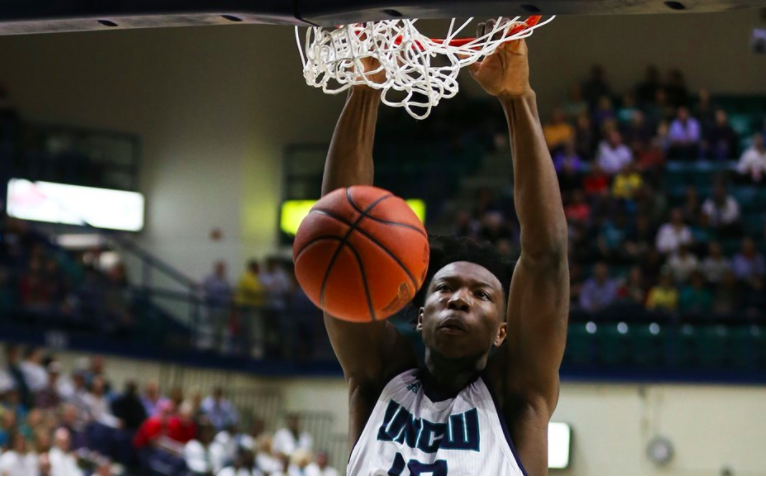 Noah Thomas, Sports Editor
November 18, 2017
There was a point in the second half of UNC Wilmington's 88-84 win over Campbell where the Seahawks needed a boost.
Down 59-52 with 10:46 remaining, UNCW went on a 9-2 run, capped off by a Jaylen Fornes dunk in the wide-open court that sent the crowd in Trask Coliseum into a frenzy.
It was at that point the game's momentum began to slip from Campbell, and the Seahawks out-toughed the Fighting Camels (1-2) the rest of the way.
Career nights
Devontae Cacok (16 points, 17 rebounds) and Jordon Talley (18 points, 14 assists) each recorded a double-double for the second-straight game.
The highlight of the game, however, was guards Fornes and Ty Taylor stepping up in the second half and scoring career highs of 18 and 17 points, respectively.
Taylor added nine rebounds and three blocks. The Seahawks (2-1) needed that effort from its role players to get the win.
"Ty Taylor – that was about as good a game as I could have hoped for Ty Taylor to play," said UNCW coach C.B. McGrath. "I've been telling him he needs to start rebounding more … He almost had a double-double, so that's terrific."
Trying something different
Campbell coach Kevin McGeehan said afterward that most teams try something different when it comes to guarding Chris Clemons, who entered Saturday averaging 33 points per game. McGrath called Taylor's number early and often to defend Clemons.
It worked for the first 10 minutes. Clemons went scoreless in that time, but exploded for seven points in just over a minute, scoring 14 before halftime.
He went to the bench with a foot injury in the second half and only managed a three-pointer early on, bringing his game total to 17.
"He's a great player," Taylor said of Clemons. "I was on my toes the entire time watching him, just making sure he didn't attack. I was active on the defensive end to make sure he didn't get easy buckets – that was my whole goal."
It's your birthday
Perhaps not coincidentally, Taylor's best game in a UNCW uniform came on his birthday.
His performance – 17 points, nine rebounds, two blocks and a steal – was something of a gift to himself.
"It got ugly, and I said, 'I hope I don't have to go home with an L on my back,'" Taylor said. "I thought that I was playing really well."
Taylor's career night helped UNCW counter some of its own shortcomings, notably in the turnover department. The Seahawks turned the ball over 21 times against the Camels and allowed their opponents to score 31 points off those turnovers.
Up next
The Seahawks won't play another home game until Dec. 17 when they host Furman. Over Thanksgiving break, UNCW gets to travel to Savannah, Georgia, for the Savannah Invitational, where it will face Loyola Chicago and Valparaiso.
Sports Editor Noah Thomas can be found on Twitter @NoahILM. Any tips or suggestions should be forwarded via email to [email protected] For video updates from The Seahawk, subscribe to our YouTube channel.