Barefoot, Seahawks focus on 'next play' in 73-64 win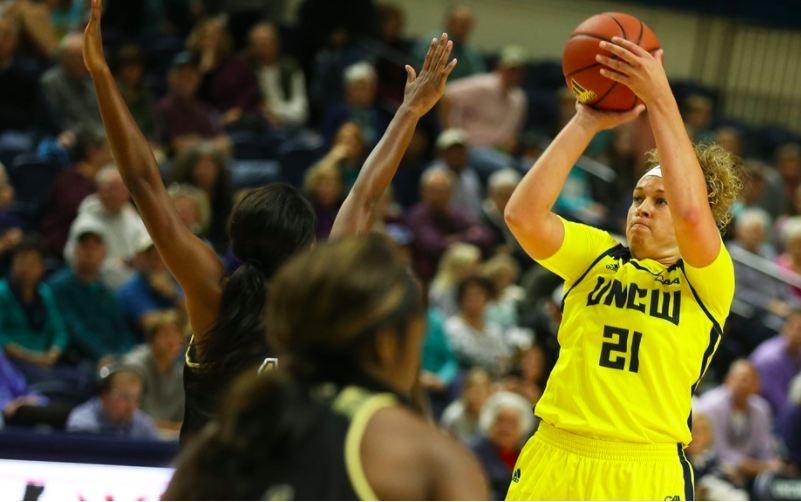 Lanre Badmus, Staff Writer
November 12, 2017
The Karen Barefoot era of UNC Wilmington women's basketball got off to a winning start on Sunday afternoon with a 73-64 victory over UNC Pembroke at Trask Coliseum.
The Seahawks (1-0) picked up the win in Barefoot's first regular season game in charge despite shooting just 33 percent from the floor. They were paced by three players in double figures.
Senior guard Madison Raque had 24 points on 8-of-14 shooting from the field and 5-of-10 shooting from three-point range, leading all scorers. Redshirt senior Jenny DeGraaf set a career high in points with 19, going 12-for-13 from the free throw line. Sophomore Timber Tate also chipped in 15 points (5-of-12 FG, 4-of-11 from three) and seven rebounds.
After all the anticipation throughout the past several weeks with the Twitter hashtag, "#NewEraNextFlight", the Seahawks delivered a victory in front of an enthusiastic home crowd. Despite the opening day win, there are still some weaknesses to cover throughout the remainder of the season.
"We didn't shoot the ball well and that's why I said 'pound it inside', and we did that and got to the line 30 times," Barefoot said. "We didn't always make every shot, but for this team to be able to pound the ball inside and do things like that, that's something they didn't do last year – so for us to get to the line 30 times is a plus for me. We got to clean up some things, but all in all, I like what this team is doing, and I like their leadership."
DeGraaf and Rebekah Banks took advantage of UNCW's size advantage over UNCP throughout the game, bullying the Braves' smaller frontcourt with their strength in the low post.
"I felt good, but all credit to my teammates. Our coaches wanted us to get it in the post and try to take advantage of the mismatches and the team did a great job of executing that in the first half," DeGraaf said.
Banks went down hard with a wrist injury in the first quarter and wound up missing the majority of the first half while nursing it on the bench with an ice pack. However, she returned in the second half to contribute ten boards, six of them offensive, to take advantage of the aforementioned mismatches.
"A lot of it was just trying to make sure that I could help my teammates as much as possible," Banks said. "We were having a little difficulty rebounding, so I just wanted to get back in there and give us that extra push that we needed to keep ourselves up."
UNCW will continue their homestand this week when they welcome another in-state rival, East Carolina, to Wilmington on Wednesday.
Staff Writer Lanre Badmus can be found on Twitter @LonnyBadmon . Any tips or suggestions should be forwarded via email to [email protected] For video updates from The Seahawk, subscribe to our YouTube channel.