Athenian Press & Workshops – a breath of fresh air for the Wilmington literary community
One month ago, Athenian Press & Workshops [Athenian] launched their Kickstarter campaign in hopes of making their feminist bookstore, press, literary magazine and resource center a reality with a $30,000 price tag.
Founded by Daisuke Shen, a creative writing MFA candidate at UNC Wilmington [UNCW]; Lori Wilson, a UNCW publishing alum; and Kelly Rae Williams, a performance artist and recent MFA graduate from Queens University, Athenian aims to "cultivate a creative, inclusive space for marginalized voices, to provide tools and resources for women and femme-identified writers, and to transform the world of publishing by disrupting oppressive constructs of femininity, sexuality, and race," according to their website.
"It is up to us to provide a safe space and a vehicle and platform for expression," said Williams, the creative director.
The launch party on October 21 was held at Waterline Brewery. Maya Marshall, editor of PANK magazine and Assistant Director at the University of South Carolina's Writing Center, took stage as the event's keynote speaker. An eclectic mix of students, professors, community members, and visitors listened to Marshall, who described the founders of Athenian as "wickedly talented."
"There is nothing like this here," Marshall said of Athenian and of Wilmington, where  73 percent of the population is white and 26 percent is everyone else. "It's time for this space to exist."
Among the featured artists at the launch party were Emily Musolino from Durham, NC, who cheered the audience with her merciless wit and soulful tunes, and UNCW student Becki Fernandez of local rock group SWINE. A table promoting femme writers, showcasing Samantha Irby's essay collection "We Are Never Meeting in Real Life" and Rebecca Lee's story collection "Bobcats and Other Stories," stood outside the entrance next to Athenian merchandise.
"Students seem really excited and want to be involved in every way they can," executive director Wilson said, estimating that roughly half of the volunteers staffing the launch party were UNCW students.
Late last February, Wilson hosted an interest meeting at her home to discuss her vision for Athenian. She opened with a reading from the VIDA blog called "Report from the Field: The Silence of a Siren."
To speak at all, as a woman, is itself a political act — an important truth director Jill Soloway reminded us of when she said, "women are so disconnected from their desire in this country because desire is shamed for women, that just women starting to talk about how it feels to be alive and to tell their own stories, to me, that would revolutionize the world."
"It's not just about literature; it's about using your voice in a lot of different capacities," Wilson said a year and a half later.
The proposed bookstore, press and lounge will offer more than books, publishing services and a social space. While Athenian will sell books by women and femmes, Wilson said they are considering selling books published or edited by women and femmes as well.
"As an editor myself, I think [editing] is a craft of its own," Wilson said.
Inside the bookstore, there will also be merchandise and art for sale as "most bookstores are not just books" she joked. There will be a stage — "William's baby," Wilson dubbed it — that "will be able to bring in voices that other places in this town are not bringing."
Wilson said Shen, the program coordinator, has connected with staff at New Hanover High School to offer programming to local students. They also hope to partner with the women's incarceration center and Wilmington's rape crisis center.
It's a big vision, Wilson assured, but the organization is focusing on establishing community in the first year.
"We will have product eventually; we will have a lit mag, we will publish books," she added.
The VIDA count, an annual report that "highlights the gender imbalances in publishing," was a major source of momentum for Wilson in the beginning. The 2015 VIDA Count shows the disparity in publications like "The Atlantic" where only 40 out of 153 bylines are women. Wilson learned about the VIDA count from Dr. Kimi Hemmingway, her professor of Women in Literature at UNCW.
"I'm very much a type A, math-oriented person," Wilson said. The VIDA count legitimized her feelings about the place of gender in literature and proved that it was relevant. She remembers thinking, "Wow I really want to do this nonprofit."
That revelation spurred her to action. Wilson started taking classes in nonprofit management, and while completing her certificate in Professional Writing, she designed her own internship to create the first draft of Athenian documents.
With her cup of coffee clutched closely to her, Wilson narrated her inspiration for Athenian in an interview.
"I chose Athenian because at the same time I was in Kimi's class, I was writing an article about the women in the St. Nicholas Greek Orthodox Church [to be published in Atlantis, UNCW's creative magazine]."
St. Nicholas Greek Orthodox Church sits across the street from the university and holds an annual Greek Festival, all the profits from which go to charity. After receiving an invitation, Wilson attended the liturgy alone. She described how pictures of the Greek saints hung on either wall: one side full of men and the other dotted with pictures of women, and the goddess Athena directly above her.
"I felt like she was looking down at me, like 'do something'… It was a weird out-of-body experience," Wilson said.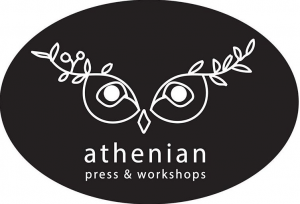 Wilson mentioned one of Athena's most powerful legends: the contest for King Cecrops's vibrant city. Because both Poseidon, the god of the sea, and Athena, the goddess of wisdom, craft, and war, so desired to be the patron deity of his city that they almost went to war against each other for the title.
Instead, per Athena's suggestion, the two deities had a contest; whoever gave the best gift, King Cecrops decided, would be awarded the city. Poseidon went first, presenting the gift of a spring, but the water was salty like the seas he ruled and the city was vexed. Athena went second, quietly planting an olive tree which granted the city a host of resources: olives for food, oil for lamps and wood for their homes. Finding her gift far better, King Cecrops declared Athena the winner and the protector of the city.
Athenian's logo is evocative of olive tree story as the owl, another symbol for wisdom, is crafted out of olive tree branches. In that same vein, the Athenian lounge is designed as a resource center for professional development.
Later in the interview, Wilson remarked on the possible controversy of choosing Athena as organization's icon.
"Sometimes I do regret the name Athenian because people automatically identify it, rightfully so, with Greek and images of white people… The immediate thought is not very diverse, but it's more about the goddess than it is about the town of Athens," she said.
Athenian's mission as stated on their website emphasizes the organization's commitment to anti-racism, claiming "to transform the world of publishing by disrupting oppressive constructs of femininity, sexuality, and race."
Wilson added, "I consider us both a literature organization and a social justice organization." Both Shin and Williams identify as people of color.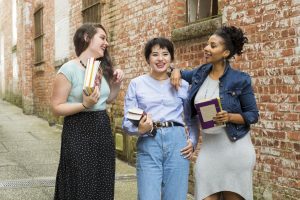 In an email, Williams expressed her feeling of ostracization from the local writing community.
"UNCW's writers' community is primarily white males that subscribe to a very specific school of thought and have a very specific perspective on what they think poetry should or should not do" said Williams. Neither Williams nor Shin fit into "that narrow box," she explained. Additionally, Williams has felt belittled and disregarded by men in the board room, despite her seven years of nonprofit experience.
"Athenian is not just a publishing press or literary magazine — it's a home for women to share, connect, to be vulnerable, to have meaningful discussions, but also it's a space for women and femme artists to be exposed to the works and writing of women they may have never read or listened to otherwise."
There are 14 days left in Athenian's kickstarter campaign, with a little over halfway left to go before the goal amount is reached. Donations of any amount are welcome here.