Why UNCW should "Stop Sucking"
"Sea Turtle with Straw up its Nostril – "NO" TO PLASTIC STRAWS" is a video with which many people are now familiar.
With almost 15 million views on Youtube today, this video, first posted by an account called CostaRicanSeaTurtles in August 2015, follows the grueling process of removing a plastic straw from a sea turtle's nostril. It takes almost the entire eight minute video to free the suffering animal from this man-made object.
If watching this video or reading the short description above makes you uncomfortable, you are not alone. Events like this are a result of our consumption of single-use plastic products — like plastic spoons and forks, coffee creamer cups and especially straws — which often wind up in the oceans, where they negatively affect millions of marine animals each year.
"It's a problem because we don't see it, making it all too easy to forget that it actually is out there," says UNC Wilmington's Plastic Ocean Project (POP) president Riley Beveridge of the impact of these discarded plastic products. "Chances are every straw you've ever used is still somewhere on this Earth, and likely somewhere in the environment where it absolutely does not belong."
***
Americans use 500 million drinking straws every day, according to the National Park Service website. We use these disposable utensils at an average rate of 1.6 straws per person per day. Based on national averages, this means each person in the U.S. will use about 38,000 straws between the ages of 5 and 65. Although straws are relatively small, that amount of waste quickly adds up.
"You don't realize how many straws you use in a week, especially on campus, until you start thinking about it," says Rebekah James, a UNCW sophomore double majoring in marine biology and environmental science. "Landfills are full of them, our oceans are full of them. They're everywhere."
While this outlook seems dismal, since the sea turtle video went viral two years ago, places around the world have mobilized to combat the prevalence of single-use plastic products and their presence in our oceans — including the city of Wilmington and the campus of UNCW.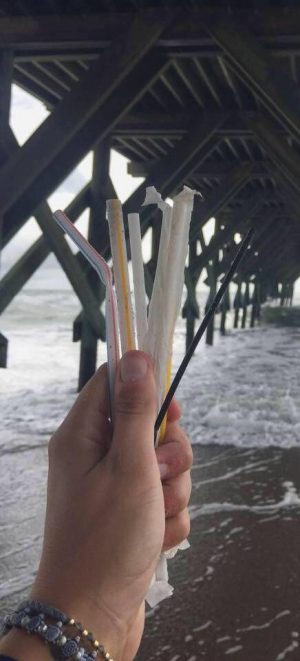 In a city-wide effort to keep single-use plastic items out of the trash and the ocean, Surfrider Cape Fear chapter, Wilmington POP and Wrightsville Beach Keep It Clean created the Ocean Friendly Establishment initiative in November 2015. This initiative awards local restaurants a certificate if they agree to offer plastic straws only if customers specifically ask for them.
This simple policy of "straws upon request only" has been adopted by over 50 restaurants in and around the city of Wilmington, and may soon be instituted at UNCW.
In addition to the Cape Fear chapters in the area, UNCW also has chapters of both POP and Surfrider, and both are the first student chapters of their respective organizations.
Following in the city of Wilmington's footsteps, UNCW POP wants to go even further than the straws upon request. One reform the group is working towards is "transforming UNCW into a plastic straw-free campus and making progress towards replacing all single-use plastics with sustainable alternatives," says Beveridge.
To reach that goal, UNCW POP recently partnered with an organization called the Lonely Whale Foundation and launched a weeklong "Stop Sucking" campaign on campus. Beveridge says the aim of this campaign is to raise awareness about the global plastic pollution epidemic, and to inspire the UNCW community to be more proactive in reducing and hopefully eliminating our consumption of single-use plastics.
The Lonely Whale Foundation, co-founded by actor Adrian Grenier, campaigned against plastic straws at the first United Nations Ocean Conference, held in June 2017 to discuss the conservation and sustainability of the world's oceans. Lonely Whale has since partnered with a number of corporations, policymakers, non-profits and more to positively impact the world's oceans.
The very same "Stop Sucking" campaign in which UNCW POP is partnering with Lonely Whale has already spread to 40 countries, according to Lonely Whale's website, but UNCW will be the the first college campus adopting this campaign as a measure toward becoming 100% straw-free.
Initiatives similar to UNCW POP's "Stop Sucking" have popped up all over the world, including in California cities such as San Diego and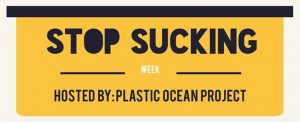 Monterey; the east coast cities of Pittsburgh and Fort Myers Beach, Florida; Seattle, WA — a Lonely Whale partnership that resulted in the removal of 2.3 million plastic straws from use in the city; and even overseas in Cornwall, where locals are striving to become the first straw-free county in the U.K.
Doing away with single-use plastic products does not mean no straws at all, though. UNCW POP's current initiative involves replacing plastic straws with paper ones at every UNCW dining location, according to Beveridge. James suggests another alternative to plastic straws: Reusable aluminum straws.
"Having metal straws is definitely a conversation starter," James says. "When I would use my straw in the past, people would ask 'why do you do that?' But recently people will say 'oh yeah, save the sea turtles!' So they have some kind of idea, which is pretty cool. It's just something super easy to keep plastic out of the oceans."
UNCW POP, The Lonely Whale, and countless other communities and organizations are doing their part to raise awareness of the profoundly negative effects of plastic, and striving tirelessly to make a difference by encouraging others to "stop sucking" and start taking care of their environment. 
"Every one of us at UNCW has a connection to the ocean, whether we believe it or not," says Beveridge. "It can be the air we breathe, the waves we surf, or simply the time we spend enjoying our beautiful beaches."
With UNCW POP leading the charge, UNCW is setting a high standard for ocean-friendly campus involvement and is on its way to being a frontrunner for change in the Wilmington area.