Preview: Seahawks take on Wesleyan in season opener on Saturday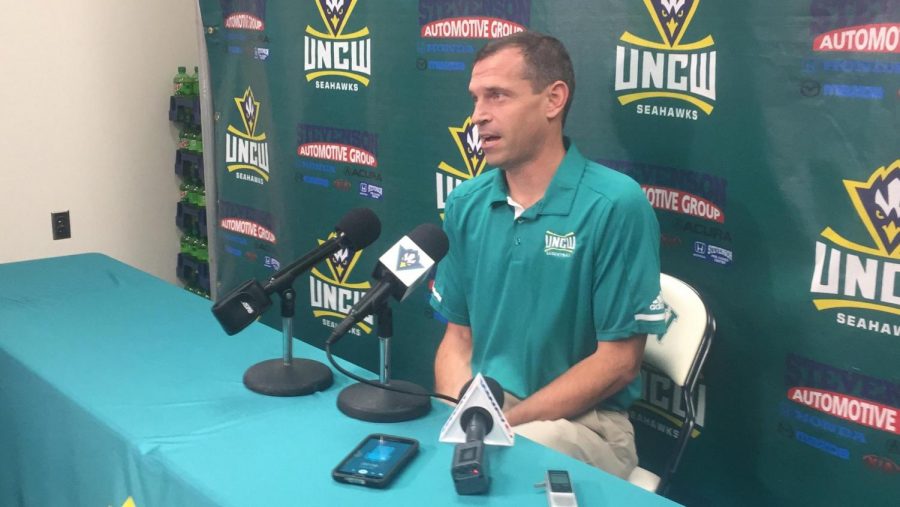 Noah Thomas, Sports Editor
November 9, 2017
Forty-eight hours out from UNC Wilmington's season opener against North Carolina Wesleyan, C.B. McGrath said the significance of the moment still hasn't dawned on him.
Saturday will mark the first time in McGrath's career that the 41-year-old Kansas native will take the bench as a head coach in college basketball. After last weekend's round-robin jamboree at North Carolina, he now has a better idea of how the pieces available to him will fit together against the Division III Battling Bishops.
The Seahawks have not looked too far into what they will be up against in their first game, but McGrath said his assistants have taken care of the scouting necessary to prepare.
"We're preparing to play our best and making sure we know what we want to execute in our game plan," he said. "Whether it's Wesleyan, Davidson or the Boston Celtics, we want to make sure we know what we need to do to be successful."
A fresh lineup
UNCW's starting lineup will feature four new faces to go alongside returning CAA Defensive Player-of-the-Year Devontae Cacok.
As of now, the lineup will look similar to the starting five that took the floor in last Sunday's jamboree: Jordan Talley, Jaylen Fornes, Ty Taylor and Marcus Bryan will join Cacok.
Looking up and down the roster, it's the most experienced lineup at McGrath's disposal. Taylor will be the only Seahawk to have never started a game after transferring from Wichita State.
JaQuel Richmond, who, according to McGrath, was having a stellar preseason and was poised to factor into the top of the lineup, was ruled out with a calf strain after not practicing for more than two weeks and missing the UNC jamboree.
"I know which guys will start the game as long as we stay injury free," McGrath said. "We're going to use different combinations. With JaQuel being out, Jeffrey Gary was playing a lot more point guard … With him out, Ty Taylor's the only two who's out there."
Something new
Cacok – long known for his dunking ability and getting easy baskets around the rim – worked hard in the offseason to diversify his game.
Dunks on feeds from his teammates are still his bread and butter, but McGrath said he saw more pull-up jumpers from the free throw line than anything else from Cacok in practice.
A game against Wesleyan could be the perfect opportunity to put his shot on display.
"We need to get him the ball more, and I've told him that it's up to him to get the ball more," McGrath said. "He's been impressive. He was an impressive athlete when I got here, and his work ethic and his desire to get better was really impressive.
"He's been very coachable, has never said 'Boo,' and just worked. What you saw (Sunday) is just a piece of what we need him to do."
Their opponent…
The North Carolina Wesleyan Battling Bishops went 13-12 (6-8 USA South Athletic Conference) and averaged 80.8 points per game at the Division III level in 2017.
Bishop coach John Thompson is entering his 23rd season with a team that touts a few Wilmington-area players, including Hoggard graduate A.J. Frye (12.9 points per game) and North Brunswick's Mitch Layton.
The Bishops return leading scorer Justin Tankelewicz, who played in 24 games a year ago and averaged 14.3 points per outing.
The prediction
Wesleyan, a decent team on the lowest level of the NCAA pantheon, won't be able to match the size and speed it will encounter when the Battling Bishops visit Wilmington.
The Seahawks will have little trouble winning this game. A combination of experience, an itch to get back out on the court and score some points, and the anticipation of a new season are all ingredients for a blowout in Trask Coliseum.
Final score: UNCW 98, Wesleyan 72
Sports Editor Noah Thomas can be found on Twitter @NoahILM. Any tips or suggestions should be forwarded via email to [email protected] For video updates from The Seahawk, subscribe to our YouTube channel.