Wilmington's best brunch spots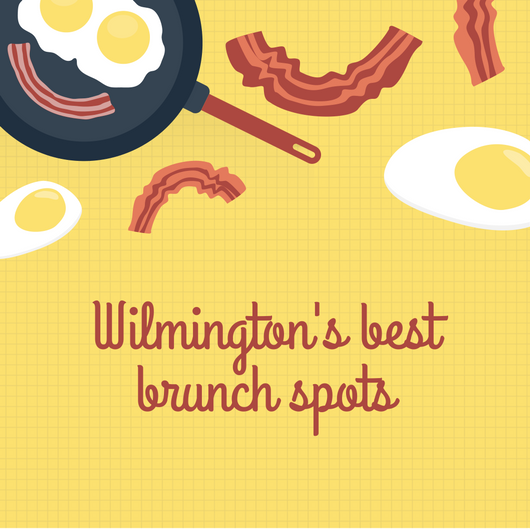 Are you looking for a local brunch spot close to campus? How about a good place to take family when they're visiting you from out of town? Maybe a good traditional diner-style breakfast? Or even a completely unique brunch experience? Look no further! Here are some of the best brunch spots in Wilmington, from classic staples to up-and-coming options!
______________________________________________________________________
The Dixie Grill
This Wilmington staple is located within walking distance to the Riverfront and has been part of the community for almost 100 years! It features classic brunch staples such as pancakes, made-to-order breakfast sandwiches and signature omelets. If you're more into the lunch side of brunch, try one of their original burgers or salads. Plus, most of the entrees are pretty cheap and you can even get some of the breakfast plates for around $5! There's always a line out the door on weekend mornings to eat here, but it is definitely worth the wait.
Famous Toastery
This brunch joint isn't exactly a local place, but the options and quality they offer is too good to pass up. The Famous Toastery not only takes environmental concerns into consideration when preparing their food, such as making sure to use cage free farm eggs, but also takes dietary concerns of customers to heart and works to include everyone who chooses to eat there. They offer multiple vegetarian options as well as gluten-free options and clearly label them on their menu. And, of course, everything is delicious, no matter how they make it.
Blue Surf Café
If you're just looking for a quick bite after an early morning of catching gnarly waves, this is the place for you. With a more casual, order-at-the-counter vibe, Blue Surf Café offers an alternate brunch experience to the traditional sit-down-and-order restaurant. Although the menu is slightly sparser than a big southern diner's would be, the options are much more unique and health conscious — like a make-your-own breakfast bowl and a morning parfait. Located off of Racine, it's a perfect place to walk to on a Sunday morning and enjoy with friends.
Jimbo's
Jimbo's pretty much defines the word "classic" in terms of food, service and style at this staple diner located off of South College. Look forward to familiar choices here such as home fries, grits, eggs any way you want them, bacon, sausage, flapjacks and more. Any southern comfort you can think of is probably on Jimbo's menu. Think of it as a local alternative to Waffle House and somewhere you can bring your grandparents when they visit from out of town.
Sweet 'n Savory
Moving a little closer to the Atlantic, we have Sweet 'n Savory — a brunch and dinner location that has tons of wraps, sandwiches, omelets, breakfast bowls, entrees and even a list of different kinds of eggs benedict. The best part? They have an entire bakery inside the restaurant that sells cookies, cakes, breads, brownies, pies and more for you to take home with you when you're done eating. If you don't find yourself venturing toward Wrightsville too often, this is the perfect excuse to get down there.
Betsy's Crepes
Going back downtown, this breakfast joint is a little different than most in Wilmy, mostly because their menu centers around one item: crepes! With a cool, quirky atmosphere and more options than you could imagine, Betsy's Crepes is a fun brunch alternative to a more traditional menu. Their long list of crepe options includes sweet crepes, like the Le Liberty that's filled with peanut butter and marshmallow cream; savory crepes, like the Samurai that's filled with smoked salmon, rice and wasabi and topped with soy sauce; and breakfast crepes, like the French Toast Crepe that has either meat or fruit inside and is topped with powdered sugar and syrup. Of course, there's an option to build your own crepe, but you won't need to with a menu like this!
Causeway Café
Ending on the actual island of Wrightsville Beach, we have one more community classic to brag about: the Causeway Café. This tiny little diner-style restaurant tends to be the talk of the town at the beach among locals and tourists alike and offers classic staple foods done exceptionally well. With an extensive menu that includes favorites such as giant malted Belgian waffles, omelets and breakfast sandwiches, you really can't go wrong. Plus, you may even get little surprises to your meal during the holidays, like green grits on St. Patrick's Day. Causeway can get pretty busy on the weekends, but don't worry– they'll be sure to give you free coffee to enjoy on the front porch while you wait.