'Hawk Box' mailbag: basketball is back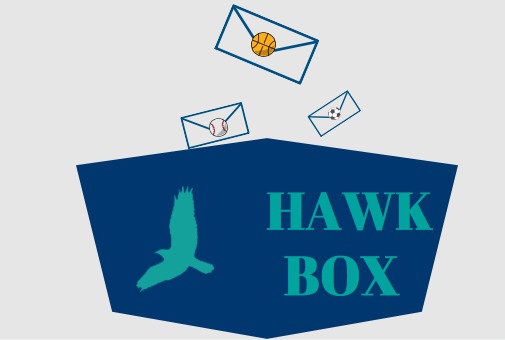 Noah Thomas and Brandon Sans
November 4, 2017
Hawk Box is a weekly mailbag where The Seahawk's sports staff will answer fan questions regarding UNCW Athletics. Got a question? Submit it here. 
KenPom predicts UNCW to win 17 games. Taking the over or under?
From the outside looking in, predicting where this team will go in its first year under new head coach C.B. McGrath is a crapshoot at best. You've got an inexperienced team, returning just one starter, that will play 17 of its 31 regular-season games either on the road or in a neutral-site environment. The Seahawks are losing 56 points per game from their starting rotation. That hurts. It'll be up to returners Jordon Talley, Devontae Cacok, Marcus Bryan and Jaylen Fornes to increase their production, while Jay Estime, Jeff Gary and Trey Kalina will attempt to step into their roles on a new team. Outside of UNCW, this is a new CAA. Teams like College of Charleston and Towson, both of which finished near the top of the conference in 2017, are back in full force and pose a significant obstacle to The Seahawks and their efforts.
So… Pick 'em. I could go either way on this. My heart (and the fleeting optimist in me) says over, the cynic in me says the final number in the win column will be at or under 17 total.
Chances men's basketball finishes in the top four of the CAA?
Given that the Seahawks were ranked fifth in the CAA preseason poll and sixth in the Blue Ribbon Basketball Yearbook, most feel they are a middle-of-the-pack team. Those predictions infer UNCW will struggle after replacing four starters and its coaching staff from the two-time defending conference championships teams. Typically, with that much turnover, you would expect to see a young team littered with inexperience take a few years to find its footing. It's a credit to the coaching staff's recruiting efforts to replace many key contributors with upperclassmen transfers who all have experience playing college basketball. That's not to say freshman Jay Estime or Jeff Gary will not have an impact this year, but upperclassmen come with the relief of being more developed and mature at this level. The Seahawks will play 12 games before opening their CAA schedule against Delaware on Dec. 30, so the rate at which the team can come together in non-conference play will determine how likely they are to finish in the top four.
Who do you think will be a breakout player on the men's basketball team and why?
I think 2018 will be the year of Jaylen Fornes. The Seahawks saw Devonate Cacok make a giant leap from his freshman to sophomore season, and Fornes stands to benefit in a similar way. The sophomore out of Word of God Christian Academy in Raleigh showed flashes of brilliance at times last season and made the most of the limited minutes given to him, coming up clutch in crunch time on a few different occasions, resulting in a swing in momentum in UNCW's favor. Fornes appeared in 30 games and scored a season-high 17 points in his first career start vs. Delaware. He averaged 3.1 points and one rebound per game. The brightest spot in his game is his scoring ability: Fornes shot 45 percent from three-point range (18-of-40) as a freshman and showed he can find his way to the basket with a quick first step.
Thanks to those ahead of him in the lineup either graduating or transferring out, Fornes is facing a potential starting role. If McGrath gives him a bit of free reign, Fornes could mess around and end up being the leading scorer for the Seahawks in 2018.
Will Matt Elmore have any impact?
Elmore received a majority of his playing time during his freshman campaign at the beginning of the season during non-conference play. He scored a career-high seven points vs. Toledo, and that served as the highlight of a season that virtually ended when CAA play began.
Sadly, I don't see Elmore's role growing significantly under C.B. McGrath. He will likely receive a sizeable amount of minutes in the early going and it will be up to him to make the most out of it. If he does, it could lead to something more down the road.
Projected record for the UNCW women's basketball team under new head coach Karen Barefoot?
After winning 18 games over the past two years under previous coach Adell Harris, no one should expect the Seahawks to challenge Elon or James Madison at the top of the CAA.
And yet, I wonder.
The feeling surrounding Karen Barefoot is similar to the one found around Wilmington in 2014 with the hiring of Kevin Keatts to run the men's basketball program. The Seahawks won 20 games in Buzz Peterson's last two years before winning 72 games under Keatts the next three years. Whatever energy UNCW lacked under Harris has been rediscovered under Barefoot and that extends to the fan base. I do not remember a time last year when Trask Coliseum was filled the way it was for the exhibition win over Greensboro College last Sunday. On the court, Barefoot has already begun to maximize the talent on the roster. Coaching changes like moving all-conference honorable mention guard Madison Raque off the ball and inserting seldom sophomores Moriah Crisp and Lacey Suggs into the starting five have simply made the game more fun for UNCW. Belief can go a long way, so I'll save record projections for now.
Sports Editor Noah Thomas and Assistant Sports Editor Brandon Sans can be found on Twitter @NoahILM and @bsans10. Any tips or suggestions should be forwarded via email to [email protected] For video updates from The Seahawk, subscribe to our YouTube channel.