Cacok's record-breaking game leads to 87-74 UNCW win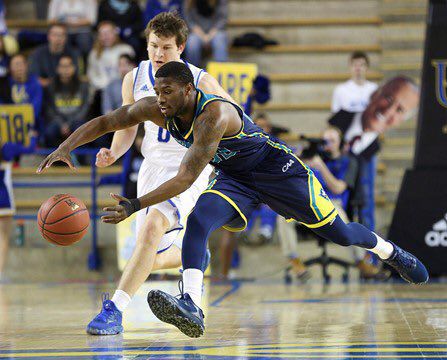 Noah Thomas, Sports Editor
January 21, 2017
"It's a good day to be Seahawk."
Those were the words of Devontae Cacok, minutes after UNC Wilmington's 87-74 win over Drexel, finishing the Seahawks' regular-season sweep of the Dragons and keeping them at the top of the CAA standings.
The nation's most accurate shooter finished Saturday's game with 12 points on 6 of 9 shooting and a conference record 24 rebounds. The Seahawks (19-2, 8-0 CAA) finished with 45 rebounds overall.
The Dragons (7-13, 1-6), who have said their biggest weakness is falliing behind early in games, made it a priority to keep up with UNCW on offense. Successfully countering the Seahawks' signature press defense, Drexel faced just a three-point deficit at halftime.
Scoreless in the first half, C.J. Bryce scored all 10 of his points in the final 20 minutes of play to help UNCW pull away.
"He didn't have a good shootaround," said third-year UNCW coach Kevin Keatts. "Nothing that he did wrong, he just wasn't sharp… I thought he was great in the second half and made that big pull up in the paint that got him going."
Freshman Jaylen Fornes scored seven points in six minutes to give UNCW two separate sparks offensively — one in each half — showing how the Raleigh native has come along as conference play has progressed.
His pass found Cacok for a score. Then he hit a three-pointer that sent the crowd inside Trask Coliseum into a frenzy.
He received congratulations from his teammates after blowing past a Drexel defender for a reverse layup, showing everyone in attendance he truly belongs.
"He's coming — he's earning every minute that I give him," Keatts said. "You're going to see him as the years goes along, he's going to get better."
Keatts noted there are still aspects of the freshman's game in need of fine-tuning.
"He still can't guard me," he said of Fornes's defense.
UNCW will start a week-long road trip this Thursday as it travels to Virginia to take on James Madison, then visits nearby Williamsburg for a weekend game at William & Mary.