Women's soccer snaps losing skid in 1-0 win over CofC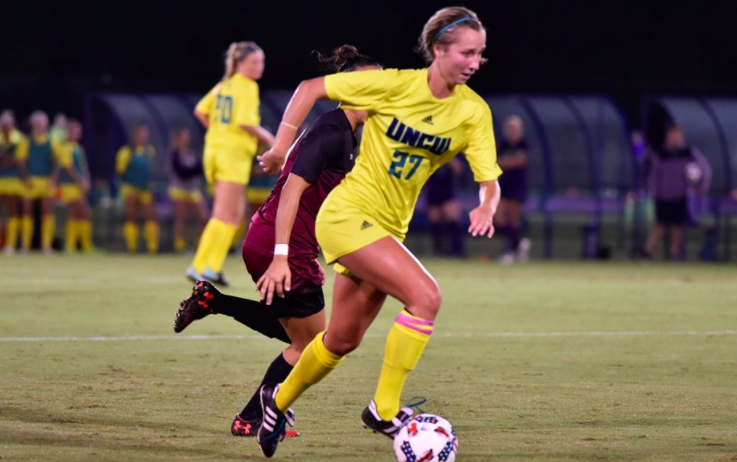 Tanner Lindsay, Contributing Writer
October 19, 2017
UNC Wilmington women's soccer picked up its second CAA win of the season Thursday night with a 1-0 over rival College of Charleston.
The Seahawks (6-10-2, 2-5-1 CAA) jumped out to an early 1-0 lead in the third minute thanks to Baley Edwards' third goal of the season. Edwards converted off a rebound from a shot by Serenity Waters.
"It was a corner kick that was redirected by Ren Waters," said Edwards of her goal. "It was a perfect ball into the box and I just slotted it in. It was a perfect service."
The rest of the game went back-and-forth with both teams getting several chances to score. Charleston (8-7-1, 3-4-1) pushed hard at the end but was unable to net the equalizer thanks to some stellar defense from UNCW.
Both teams ended the game with 13 shots apiece. Genevieve Henderson had four saves for the Cougars while Sydney Schneider came up big for the Seahawks with eight saves.
"I thought defensively Baley, Tara (Pak), and Lauren (Ellis) did an absolutely bang-up job along with Sydney to keep Charleston away," said UNCW coach Paul Cairney. "Charleston has scored a lot of goals in the league and to keep them off the scoreboard makes me really proud of our team."
The Seahawks, who had lost three consecutive games by one goal coming into Thursday, were finally able to win a one-goal game.
"We've outshot the other team in almost every game," said Edwards. "I think it finally went our way, which was great for us because we really need the points."
The Seahawks will look to get another CAA win this Sunday when they host Northeastern at UNCW Soccer Stadium.
"We'll take the points, dust ourselves off, do the exact same things we've been doing, recover tomorrow, prepare for Northeastern, and see what happens Sunday," said Cairney.
Contributing Writer Tanner Lindsay can be found on Twitter @tannerjlindsay. Any tips or suggestions should be forwarded via email to [email protected] video updates from The Seahawk, subscribe to our YouTube channel.