Pitino, out as Louisville head coach, declines knowledge of FBI investigation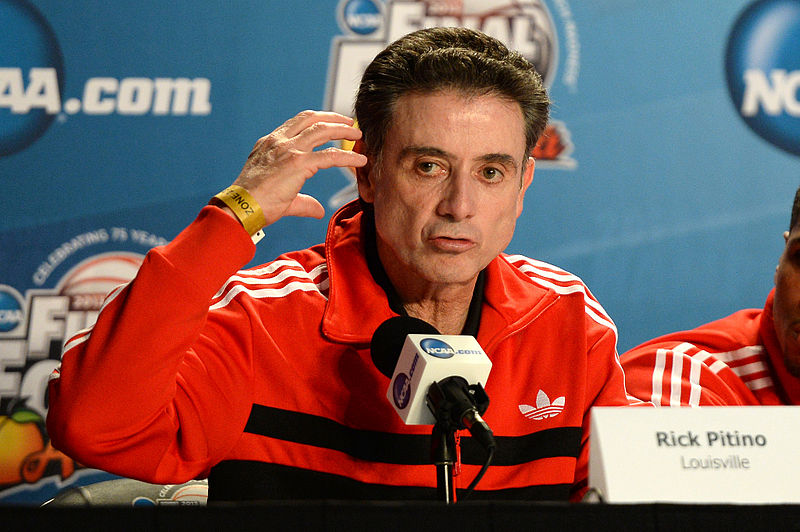 After several weeks of sitting on unpaid administrative leave, Rick Pitino of the University of Louisville has officially been relieved of his duties as head coach.
Pitino was fired after allegations were made claiming that he, along with several other Louisville staff members, were involved in offering money from the school's athletic apparel partner Adidas to several high school prospects.
The allegations were part of a wider investigation conducted by the FBI, in which assistant coaches and apparel executives throughout college basketball are now facing federal fraud and bribery charges.
No one at Louisville has yet to be charged with criminal wrongdoing, but the school was mentioned as "University-6" in charges made against Adidas employees James Gatto, Merl Code and others.
In his affidavit released Monday following his firing, Pitino denied any affiliation with the bribery scandal.
"The bribery matter stems from a criminal complaint that alleges that a sports apparel company conspired to pay money to the family members of recruits to induce the recruits to play basketball at a public university," Pitino said in the statement. "I had no part — active, passive, or through willful ignorance — in the conspiracy described in the complaint."
The allegations were made less than two years after Pitino and his program came under fire by the NCAA for offering prostitutes to both current and incoming players. This resulted in sanctions which included a five-game ACC suspension for Pitino, four years of probation for the Louisville basketball program, and the vacating of wins which involved ineligible players.
"We simply felt this was in the best interest of the university," said Louisville's Interim President Greg Postel to NBC News after Pitino's release. After six hours of meetings, the Louisville Athletic Association's board members made the unanimous decision to terminate Pitino's employment.
Pitino was the head basketball coach for the Cardinals from 2001 to 2017. He coached Louisville to six conference tournament titles within Conference USA, the Big East, and the American Athletic Conference. The program won a national championship in 2013.
UNC Wilmington has its own ties to Louisville basketball. Former UNCW basketball coach Kevin Keatts was an assistant under Pitino from 2011 to 2014. No Louisville employees were named in the criminal complaint that included the university, but the latest in a mounting number of scandals involving the men's basketball program is what prompted the termination of Keatts' former boss.
Pitino was one of several coaches throughout the country put under the NCAA's microscope late last month. Oklahoma State assistant coach Lamont Evans was accused of receiving bribes upwards of $22,000 to "exert his influence over certain student-athletes" at both OSU and South Carolina, where he was an assistant before taking his position with the Cowboys.
Other coaches who have received suspensions for similar acts are Auburn assistant coach Chuck Person, Arizona assistant coach Emanuel Richardson, Southern California assistant coach Tony Bland, and Kobie Baker, an Alabama men's basketball administrator who was not suspended but resigned from his position after Alabama Athletic Director Greg Byrne began a review of the Crimson Tide men's basketball program in wake of the recent scandals which have plagued college basketball.
Contributing Writer Noah Powers can be found on Twitter at @TealNoah23. Any tips or suggestions should be forwarded via email to [email protected] For video updates from The Seahawk, subscribe to our YouTube channel.
The main photo for this story was found on WikiMedia Commons under the Attribution 2.0 Generic License.