UNCW's case for an at-large NCAA bid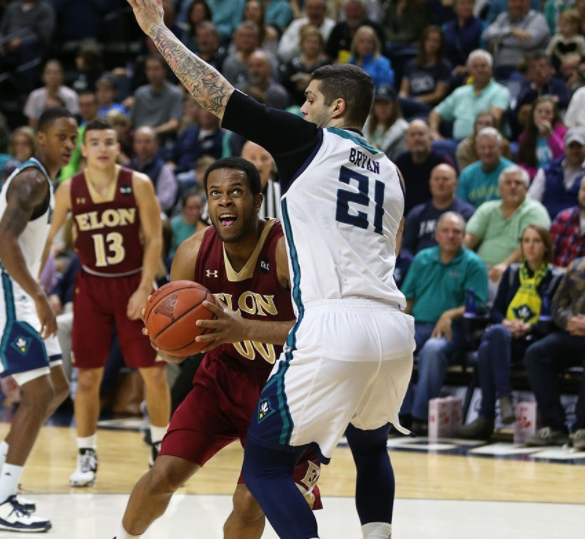 Hang on for a minute...we're trying to find some more stories you might like.
Fifteen games into the 2016-17 season and UNC Wilmington has built a convincing case to repeat as Colonial Athletic Association champion and represent the conference in the NCAA Tournament.
Fresh off its convincing 79-63 win against Elon and a pair of road wins over Drexel and Delaware, UNCW now sits at 15-2 overall while remaining a perfect 6-0 at home. It remains undefeated in conference play where it is the odds-on favorite to capture the first back-to-back CAA Tournament victory since Old Dominion in 2011 and 2012.
Riding the success of the previous two seasons under coach Kevin Keatts, UNCW is being mentioned among the top mid-major programs in the country. This was echoed by former Virginia Tech coach and current ESPN analyst Seth Greenberg when he stopped in the Port City before the season began.
"Why can't Wilmington be the next Butler? Why can't Wilmington be the next Wichita State? Why can't be Wilmington be the next VCU? Well they can," said Greenberg.
Recently, social media has been flocked by graphics pointing out UNCW currently owns the best record in the state of North Carolina and articles asking if UNCW is indeed the best team outside of the Duke-Carolina stronghold.
According to TeamRankings.com, UNCW is projected to grab the number-one seed in the CAA Tournament in March. It would mark UNCW's third-straight regular season championship and first number-one seed since 2003.
NCAA.com named the Seahawks as one of seven potential bracket busters coming into this season. The Seahawks have done nothing to disprove that notion with a 7-1 record in games decided by ten or less points.
ESPN's Joe Lunardi pegged UNCW as a rising number-11 seed in the NCAA Tournament in his latest mock bracket. In Lunardi's first mock bracket, he had the Seahawks slotted into a 14 seed. That UNCW has been able to move up three spots in only two conference games speaks volumes to the growing national attention and respect the Seahawks have earned.
UNCW currently ranks seventh in the nation in turnover margin with a 5.6 ratio. It has caused opposing teams to turn the ball over 257 times, which ranks fifteenth in the country. UNCW comes in at 33rd in total steals with 123.
Converting those turnovers into opportunities on the offensive end often leads to extra points for the Seahawks. UNCW has made 48.7 percent of its field goals this year, good for 27th in the country.
Senior guard Denzel Ingram is currently 30th in the nation in assists, averaging 5.7 per game. As a team, UNCW averages 15.7 assists per game. However, if the Seahawks can improve their assist total by just one the team would jump nearly thirty spots in the rankings. If it can average two more a game, it suddenly becomes a top-20 assist team.
Most note-worthy is UNCW's standing in the Ratings Power Index (RPI), which is one of the tools the NCAA Selection Committee uses to evaluate teams in determining at-large bids for the 68-team field. UNCW is currently at No. 18.
For a team that took Duke to the wire in last year's tournament, getting an invite to the dance could mean being the last one on the floor at midnight.
"You can play with anyone," Greenberg told the Seahawks before the season. "You're going to get knocked back a couple times and that's all part of it. But you're at the point now where there's no such thing as a moral victory. This program's at the point where you come to practice every day, put your hard hat on and who knows what you can accomplish."