Q&A with women's soccer star Molly McGarry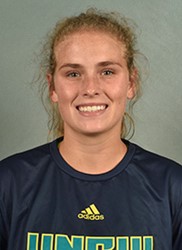 Lanre Badmus, Staff Writer
October 3, 2017
UNC Wilmington women's soccer freshman Molly McGarry was named the Colonial Athletic Association Rookie of the Week for the second consecutive week on Sept. 18. The midfielder out of Charlotte, N.C., scored both of UNCW's goals in a 2-1 home victory over Campbell on Sept. 17.
McGarry also scored UNCW's second goal in their 3-0 home win over James Madison on Sept. 28, giving the midfielder her team-leading fifth goal of the season. The victory over the Dukes was UNCW's first CAA victory of 2017.
The Seahawk recently had a Q&A with McGarry to discuss her accolades, adjustment to the college game, and how the decision to come to UNCW has fared so far.
The Seahawk: This is your second Rookie of the Week award. Does it feel any different from the first one you got?
MM: Getting one is definitely great, but two is just absolutely amazing. It's such an honor because one signals that I had one good week, but I guess they thought I had two good weeks, which is great in college soccer. There are so many rookies that they could choose from, even on my own team, that I'm really lucky to be chosen two times in a row.
TS: You are currently the team's leading goal scorer. How does it feel to have emerged as such a key player so early on in your collegiate career?
MM: It feels pretty normal to me. Not that I'm used to it, I just don't feel any different. It's a great honor, but playing minutes is what matters to me. Being able to help the team out, being a leader on the team is important. I think that's what's so great about the Wilmington experience, is that I get to be a big player on the team.
TS: The team has had an up-and-down season so far in your first year. How do you as a young player respond to the pressure to help the team improve on their current record?
MM: Definitely we can't get down on ourselves. I just have to stay positive because I'm one of the younger players on a team with a lot of freshmen. We can't hide behind the excuse of inexperience just because we're freshmen. We play just as big of a role as some of the older players, and we all have to pick ourselves up after our first pair of conference games.
TS: How do you feel you've progressed as a player since high school? Do these awards serve as affirmation of your hard work and dedication to your craft?
MM: I definitely feel like I'm improving because I'm able to stand the full 90 minutes. College is very fast-paced compared to high school. I've definitely improved because I have so many good players around me and I've gotten physically stronger and more comfortable on the ball. These awards are affirmation of my improvements because it shows my hard work and attention to fitness is paying off.
TS: How has head coach Paul Cairney helped you to adjust to the college game, and how have your teammates helped?
MM: Our team is really accepting of everyone. They're just really great on and off the field … they'll be a little harsh and yell at you on the field, but it's all constructive. I know that once I get off the field that we're all friends and none of it is malicious.
TS: How confident do you feel that the decision to come to UNCW and join the women's soccer team here as opposed to elsewhere was the right decision?
MM: Soccer-wise I know it was the best decision because I know players who are at other schools who don't play or are getting injured. I know Paul individually for me is super helpful because he knows that soccer is more important than any other aspect of being on the team, and he's supportive of me. The girls on the team are all really helpful and friendly and make you feel at home.
TS: You were talking about the soccer part – maybe delve into the non-soccer factors in the decision that influenced you to come here? Obviously, your sister's here…
MM: My sister's a big part of it. Academically it fits, and I'm able to succeed in the classroom. There's not a huge heavy load of soccer to where I'm unable to manage my time. I still have time to split between school and soccer, and having my sister here provides a little taste of home.
Staff Writer Lanre Badmus can be found on Twitter @LonnyBadmon. Any tips or suggestions should be forwarded via email to [email protected] For video updates from The Seahawk, subscribe to our YouTube channel.