No. 15 UNCW survives Elon's late surge, escapes 2-1
Seahawks reach 7-1 record for third time in program history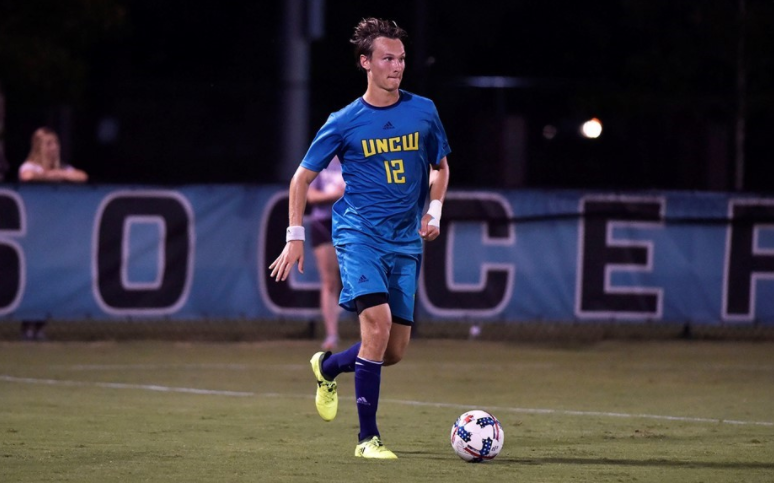 Noah Thomas, Sports Editor
September 27, 2017
With senior captain Julio Moncada on the shelf with a knee injury, UNC Wilmington men's soccer turned to its underclassmen for production in their 2-1 win over Elon on Wednesday.
The No. 15 Seahawks (7-1, 3-0 CAA) first took advantage of a lapse in the Phoenix defense late in the first half. With six minutes to go before the buzzer, reigning CAA Player-of-the-Week Phillip Goodrum found the back of the net on an assist from sophomore Jamil Gracia.
Freshman phenom Emil Elveroth followed Goodrum's lead in the second half. His well-placed shot from the right side of the box Elon goalkeeper Matthew Jegier's outstretched arms to add an insurance goal in the 65th minute.
"It was a great effort by Jamil going down the line," Goodrum said of his goal. "He showed a little bit of skill and just put the ball back for me. All I had to do was put it in the goal. Credit to him – it was a great goal to get the team started."
UNCW and Elon (3-1-5, 0-1-2) split time of possession in the first 45 minutes, a trend that continued well into the second half when became more physical. 13 of the game's 20-plus total fouls were called after halftime.
The Seahawks were able to capitalize on the opportunities they made for themselves, however. Including the two goals scored by Goodrum and Elveroth, UNCW outshot the Phoenix 8-2.
"It's about creating chances at the end," said UNCW coach Aidan Heaney. "We got more of the ball and created more chances. At the end of the day, that's the most important statistic right there."
Elon was able to get on the scoreboard in the final minutes and avoid a shutout when Tuki Tayali surprised UNCW goalkeeper Ryan Cretens with a goal as the game entered the 88th minute.
The Seahawks nearly gave the game away in the final seconds. An attacking Elon player drove toward the goal and was fouled by Cretens, giving the Phoenix a free kick with twenty seconds left.
Cretens blocked the shot, giving the Seahawks just their third 7-1 start in program history.
"We were disappointed with the goal at the end," Heaney said. "You pride yourself on getting to the 88th minute and seeing the game out, so we didn't manage the game as well as we needed to, but it's difficult when a team starts throwing numbers forward and getting really direct."
The Seahawks will take a break from conference play on Saturday when where they host former CAA member VCU. UNCW will travel to Coastal Carolina next week before returning home to take on Drexel.
Shot and produced by Noah Thomas/The Seahawk
Sports Editor Noah Thomas can be found on Twitter @iNoahT. Any tips or suggestions should be forwarded via email to [email protected]