Lady Seahawks bounce back, down Campbell
UNCW opens conference play next weekend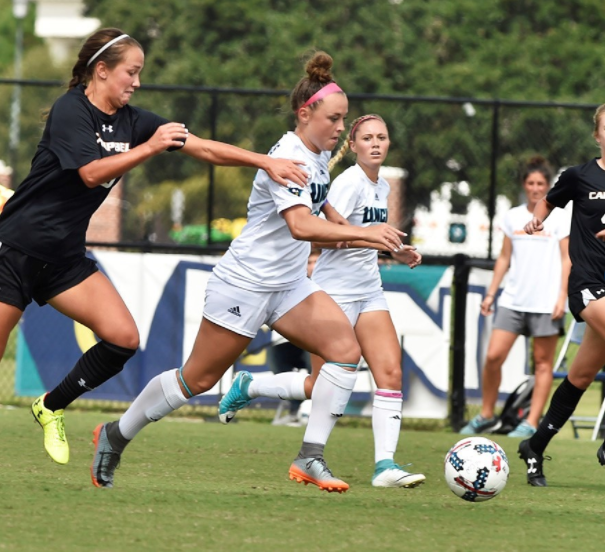 Lanre Badmus, Staff Writer
September 17, 2017
A first-half clinic from reigning CAA Rookie of the Week Molly McGarry helped stall a Campbell comeback Sunday afternoon, as UNC Wilmington defeated the Fighting Camels 2-1 at UNCW Soccer Stadium.
UNCW (4-5-1) used a pair of McGarry headers to lift themselves to an important victory in an in-state matchup. The first goal came just two minutes in, with McGarry getting on the end of a corner kick from senior forward Serenity Waters.
McGarry repeated this just before halftime, getting the assist from redshirt sophomore forward Olivia Szeker-Cortes in the 43rd minute.
The Seahawks controlled the possession and dictated the tempo of the game for much of the first half. Their quickness and pressure on the attack saw them lead 8-1 in shots and 6-1 in corner kicks.
The Fighting Camels (4-4) set up a competitive second half after a goal from freshman Siara Southerland, but UNCW's defense was able to hold on until the end.
"I think this season we've struggled with scoring early," said UNCW coach Paul Cairney. "We've always waited until the second half, so it was really good to get that early goal."
Cairney said his team's response once Campbell scored was a contrast to its previous match, a 3-0 loss away to in-state rivals East Carolina on Thursday night.
"Against East Carolina on Thursday, we panicked once we gave up a goal," Cairney said. "So today was good, we didn't panic, we kept to our game plan, and probably could've had a third … I thought a third goal would've finished it, but Campbell hung around in that second half, so credit to them for putting us on the back foot."
McGarry made a case for a second consecutive rookie of the week award with her performance.
"Especially when you get the first goal in the very beginning, it sets a tone really early on," said McGarry, who now leads the Seahawks with four goals on the season. "The goal right before halftime brings it to a close and reminds us to pick it up right where we left off for the second half."
The Seahawks open CAA play next week with trips to Elon and Hofstra. They return home on Sept. 28.