McGarry earns her first CAA Rookie of the Week award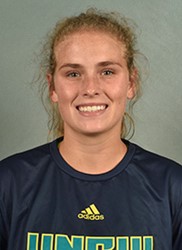 As UNC Wilmington freshman Molly McGarry entered her first collegiate season, she had no expectations how it would play out or if she would even start. Eight games and seven starts later, she has placed her name among the Colonial Athletic Association's best newcomers.
McGarry was named co-CAA Rookie of the Week (along with Elon freshman Reena Wichmann) after scoring the only goal in a 1-1 tie with Old Dominion and assisting redshirt sophomore Kristen Bootes' game-winning goal in overtime to defeat Appalachian State 2-1.
Men's soccer's Emil Elveroth was also named CAA Rookie of the Week over the weekend, making it a big week for Seahawk freshmen.
The freshman found out about the award from her teammates, who sent her word of the honor in a team group message. It was something of a shock to McGarry, but not to anyone who's watched her become the Seahawks' leading scorer with five points.
"I do feel humbled and grateful that we have such a good team this year, where I'm able to succeed," said McGarry. "I'm just going to play the way I know how and not get caught up in trying to validate or prove myself."
Earning awards is nothing new for McGarry. At Providence High School, she led the Panthers to the 2016 North Carolina 4A state championship and a runner-up finish in 2015. Now at UNCW, she's on the path to deliver more championships.
"With soccer, I feel like I've been preparing my entire life for college soccer," said McGarry. "It's exactly how I hoped it would be so it is what I expected but more rewarding."
Assistant Sports Editor Brandon Sans can be found on Twitter @Bsans10. Any tips or suggestions should be forwarded via email to njt8879@uncw.edu.