Two years removed from a sidelining illness, Moncada focused on finishing strong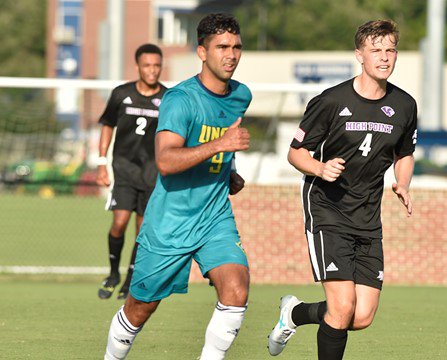 Lanre Badmus, Staff Writer
September 21, 2017
The UNC Wilmington men's soccer team is a unit that prides itself on togetherness and its players being part of a family. However, as with any team, there is bound to be at least one standout player on the squad.
One of the more notable players on the Seahawks roster is senior forward and team captain Julio Moncada.
The redshirt senior, who is a native of Puerto Cortes, Honduras, was the team's MVP in the 2016 season after being its top scorer with eight goals and three assists in 17 games. In addition, Moncada was named first team All-Colonial Athletic Association, a NCCSIA All-State selection, named NCAA Player of the Week in October, and led the CAA with six game-winning goals, among other accolades.
But it hasn't always been smooth sailing for the striker in his college career. Moncada had to sit out virtually his entire sophomore season with a sudden illness that left him hospitalized for nearly three weeks.
"I missed the whole season because of a small intestine injury," Moncada explained. "I played 20 minutes in the first game and then, out of nowhere, I noticed something was wrong when I was eating on campus one day.
"I had to go to the hospital and I stayed there for 19 days, and it caused me to miss that whole season. But then I bounced back even stronger, put in the work, and it paid off. It was a tough experience, but it only made me stronger."
Moncada opened up about feeling happiness on his return to the pitch last year. He was excited to come back to the team and felt that his hard work was key to his success in 2016.
He also said that the experience was an eye-opener and it made him grateful to just wake up every day as a healthy person. As co-captain along with junior midfielder Joel Bylander, Moncada credits his teammates for last season's awards and relishes his role as one of the team's leaders.
"They were there the whole time," Moncada said of his teammates' efforts to help him bounce back from his lengthy spell on the sideline. "It helps a lot just having someone there to make sure you're fine, always comforting to know that someone else is looking out for you … We're a family and we take care of each other."
Coach Aidan Heaney spoke highly of Moncada's character and resilience.
"He's just an amazing kid … A first-class, high-character type of guy," Heaney said. "He does all of the little things right. He's a great leader, he's extremely passionate, and he leads by example on and off the pitch. He's a good captain for us."
Heaney said that Moncada's instinctual knowledge of the game makes it awkward for defenders to play him. He also said that Moncada plays with a genuine feel and heart for the game and that quality separates UNCW's No. 9 from many other players.
He praised Moncada's leadership abilities and said his teammates look up to him greatly and thrive off how hard he works.
Moncada's college career has been far from typical, but his performance last season, as well as his influence on the team, has made his 2015 absence all but a distant memory. He is now focused on finishing strong.
"It's my senior season, so I want to do the best that I can and leave a good legacy and mark here at UNCW."
Staff writer Lanre Badmus can be found on Twitter @LonnyBadmon. Any tips or suggestions should be forwarded via email to [email protected]