Soccer's Elveroth named CAA Rookie of the Week
Elveroth the second CAA Rookie of the Week in two weeks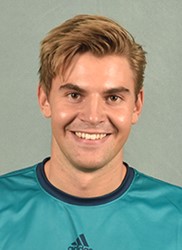 Hang on for a minute...we're trying to find some more stories you might like.
The accolades and recognition continue to pile up for the UNC Wilmington men's soccer team and its players. Having already had freshman defender Hjalmar Ekdal pick up both Colonial Athletic Association Rookie of the Week and Player of the Week honors, another Seahawk took home the CAA Rookie of the Week award this week.
Forward Emil Elveroth, fresh off the game-winner in last Friday's victory over Longwood, has been named CAA Rookie of the Week. The freshman from Sweden, whose second-half goal opened the scoring in the 2-0 victory at UNCW Soccer Stadium, has helped the No. 15-ranked Seahawks to a 4-1 start as one of two strikers out front for coach Aidan Heaney's side. The 71st-minute goal was the first of Elveroth's college career, and he hopes to continue his form into the rest of the campaign.
"It feels amazing to score the game-winner," said Elveroth. "As a striker, you want to score goals…it felt so good. I've had to go through my first few games without scoring, so to finally do so felt amazing."
Elveroth, however, was quick to downplay the importance of the award and emphasize the significance of hard work and the performance of the team at large.
"I don't focus on the award so much," he said. "I mean, it's a great confidence booster and all, but the most important thing is that the team is winning games…it's not what I'm concentrating on, but you need to have confidence as a striker."
Having come from Halmstad, Sweden, Elveroth mentioned that he has now settled in, and is focused on continuing his improvement as a footballer.
"It was a big transition, coming here from Sweden," he said. "I was struggling to adapt a little bit when I first came here, but I feel more welcome as a part of the team. I have a lot of help from the coaches, so I will continue listening to them and adapting their tactics into my play."
The Seahawks kick off their CAA schedule with a pair of road games. They will first take on defending conference champion Delaware on Sunday before heading to Virginia to take on William & Mary. They will return home on Wednesday, Sept. 27, to take on the Elon Phoenix.
Staff writer Lanre Badmus can be found on Twitter @LonnyBadmon. Any tips or suggestions should be forwarded via email to njt8879@uncw.edu.