Seahawks clip App. State, 2-1, in overtime
UNCW sophomore Kirsten Bootes headed-in the game winner in the 99th minute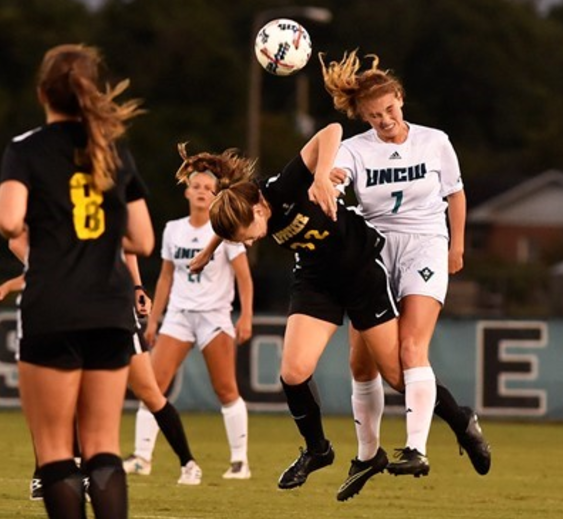 Hang on for a minute...we're trying to find some more stories you might like.
UNC Wilmington's women's soccer team has already dealt with a lot this season, but the team may have begun to turn a corner on Saturday night. The Seahawks ground out a 2-1 overtime victory over in-state rivals Appalachian State, downing the Mountaineers in the 99th minute.
Missing key senior midfielder Serenity Waters to due to injury, UNCW (3-4-1) would lose sophomore midfielder Katie McGrath after a rough tackle 16 minutes into the game.
Sophomore defender Baley Edwards opened the scoring for the Seahawks in the 38th minute when she pounced on a loose ball from a Brittany Matsinger pass after a corner kick. UNCW ended the first half with a 6-4 on the shot count.
"We've tried different players in different positions, and I think tonight we had some players step up," Cairney said. "We didn't panic in the last game on Thursday. We didn't overanalyze, but we learned a lesson from it, and I think tonight not panicking when App. State equalized put us in good stead."
Despite having more possession time than its opponent, UNCW found it difficult at times to cope with App. State's physical and aggressive play. This was made evident when freshman midfielder Grace Bondurant went down with an injury in the first three minutes of the second half.
The Mountaineers (1-5-2) capitalized with a 54th-minute equalizer, courtesy of redshirt junior forward Erin Settle. The Seahawks continued to dominate in the second half with nine shots to ASU's one but had to wait until overtime to get the winner.
That's when redshirt sophomore forward Kirsten Bootes stepped up and converted passes from Dominique Martinez and Molly McGarry into a diving header that beat Mountaineers keeper Taylor Ray at the far post, who had five saves in the loss. Sydney Schneider had one save in goal for UNCW.
"I just go out there with the hopes of doing the best that I can for the whole team," said Bootes. "Dom had a great pass, and she and Molly combined really well…it was a perfect ball and it just came right to my head."
The Seahawks visit another in-state program next Thursday, Sept. 14, when they face East Carolina before returning home three days later against Campbell.