Women's soccer plays Old Dominion to 1-1 draw
The Seahawks returned home after a pair of road losses in the ACC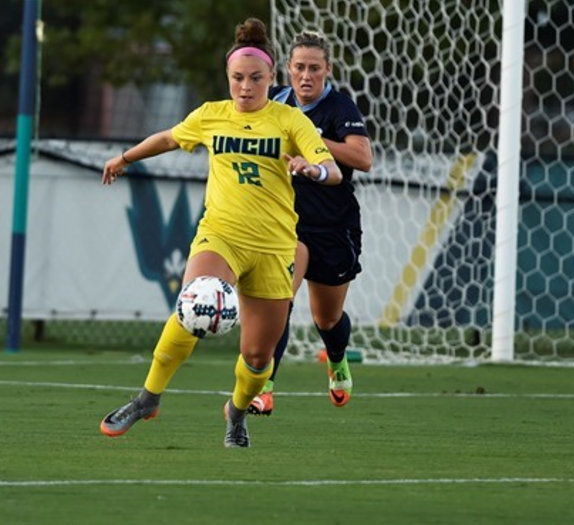 After dropping consecutive games to No. 13 Duke and No. 9 North Carolina last weekend, UNC Wilmington returned home with a 1-1 overtime tie with Old Dominion Thursday night.
The tie did not come without a reminder that UNCW coach Paul Cairney fields a young team that can tease its potential while showing it still lacks experience at inopportune times. After holding the lead for much of the match, the Monarchs scored the tying goal against with 18 seconds left in regulation.
That led to two extra periods in which senior Serenity Waters briefly exited the game with an apparent left shoulder injury. Waters, who has taken a leadership role on the team, appeared to be fine after returning minutes later.
Before the late-game setbacks, there were some rewarding moments in the match. Freshman Molly McGarry scored her second goal of the season and goalkeeper Sidney Schneider was moments away from her third career shutout.
"I just go into every game with the same intensity," said McGarry. "I don't feel like I play differently. I just go for it, and if it goes well that's great. Other than playing minutes and getting more fit, it's the same."
UNCW (2-4-1) was more successful attacking early than in previous games. McGarry's goal was the first Seahawk goal scored in the first half this season.
The best teacher for success is the failure that precedes it. This was the first time playing in overtime this year for the Seahawks. They never allowed the Monarchs to change how UNCW played after losing the lead late in the game.
UNCW outshot Old Dominion (2-2-2) 4-0 in the overtime period. Cairney was pleased with the effort his team showed.
"We took the game to them, got the best chances," said Cairney. "Obviously it's disappointing, giving up that goal late, but it is what it is. It happens."
UNCW returns to UNCW Soccer Stadium on Saturday when it faces off with Appalachian State at 2 p.m. The Seahawks lead the series with the Mountaineers 5-2-1.
Assistant Sports Editor Brandon Sans can be found on Twitter @Bsans10. Any tips or suggestions should be forwarded via email to njt8879@uncw.edu.