UNCW soccer earning national honors after hot start
Freshman Hjalmar Ekdal collecting individual honors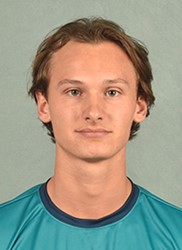 Hang on for a minute...we're trying to find some more stories you might like.
UNC Wilmington's men's soccer team has started the 2017 season on the right foot, and now the rest of the nation is beginning to take notice.
The Seahawks are nationally ranked as a reward for a 3-1 start to the new campaign, which included a pair and a draw against two top-12 Atlantic Coast Conference opponents.
UNCW is ranked No. 15 in the United Soccer Coaches Division I poll, No. 9 in the Soccer America Top 25 poll, No.12 in the Top Drawer Soccer Top 25 rankings, and No. 25 in the College Soccer News Top 30 poll. The team has begun this season with wins over Jacksonville, North Florida and No. 3-ranked North Carolina before narrowly dropping a 2-1 overtime decision at Virginia last Monday.
Additionally, defender Hjalmar Ekdal's name continues to be mentioned in national soccer circles.
The freshman out of Stockholm, Sweden, followed up Colonial Athletic Association Player of the Week honors by being named to the National Team of the Week by both Top Drawer Soccer and College Soccer News. Ekdal has scored two goals already this season, both coming in wins against North Florida and UNC.
"It's an awesome feeling to get started off on the right foot," sophomore midfielder Phillip Goodrum said. "Our team has shown that we have what it takes to compete with the top programs in the country, but we are still hungry for more. Now we are looking forward one game at a time and focused on getting 3 points Friday vs. Longwood."
The Seahawks will welcome the Longwood Lancers to the Port City on Friday night for a non-conference duel at 7 p.m. at UNCW Soccer Stadium.