UNCW baseball falls short of CAA crown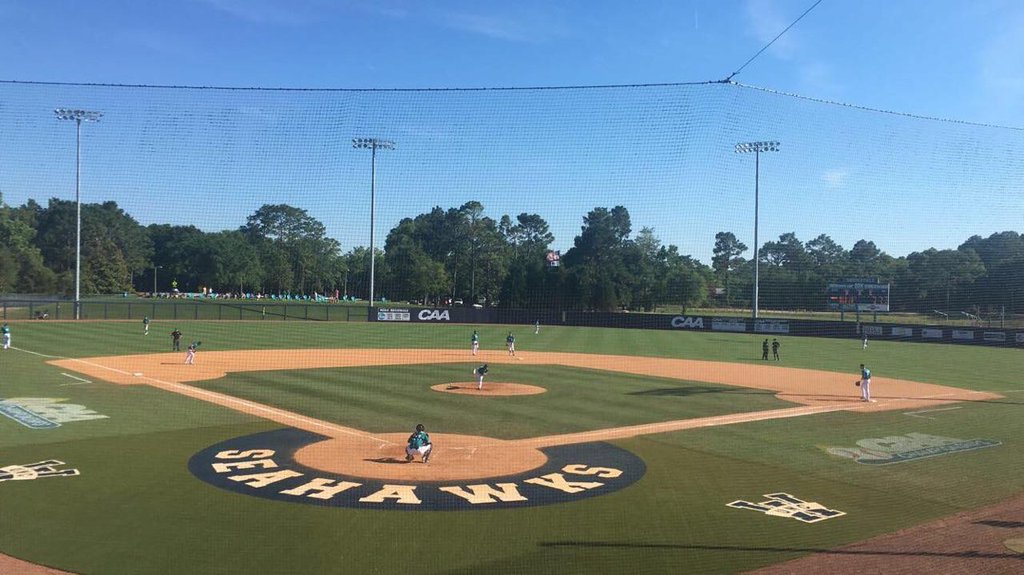 Brandon Sans, Staff Writer
May 28, 2017
UNC Wilmington (30-29) head coach Mark Scalf chuckled as he smiled before answering a question about all the adversity this team had to overcome this season.
"A lot of that was because of injuries, illness, and not having some depth available," said Scalf. "The ones that were available and on the field continued to compete every day and we got to the back-end [of the tournament] with a chance to win a championship."
Indeed, the Seahawks did get to the back-end of the Colonial Athletic Association tournament by beating top-seed Northeastern (29-25) 10-1 earlier in the day before dropping the championship final, 10-3 to Delaware (34-21).
After conceding eight two-out runs in the sixth inning of yesterday's match-up with the Blue Hens, the Seahawks turned to redshirt freshman Logan Beehler to stave off elimination. In the finest start of his career, Beehler did just that by allowing one run over eight innings to infuse life into the Seahawks.
Roughly 45 minutes later, senior right fielder Casey Golden sent the second pitch of the game against Delaware out of Brooks Field to make it appear, for a moment, the Seahawks were on their way to forcing a winner-take-all game for the championship tomorrow.
Then history repeated itself.
The Blue Hens broke out for nine runs in the bottom of the first to put the game far from reach for the Seahawks. Scalf would use three pitchers to work through 14 Delaware batters.
"Unfortunately, that's the way the game of baseball works," said Scalf. "I thought our guys continued to compete extremely well all day. [Delaware] got one hit and one run after the first inning."
The Seahawks continued to battle back, much like they have at all times this year. They never could muster up enough hits to "keep the line moving" as first baseman Mason Berne remarked earlier this year.
"It's not the result we wanted," said second baseman Brian Mims. "I'm proud of all the guys that came out here. Our whole team battled the whole weekend. You just have to give credit to Delaware."
Mims, a junior, does have one season of eligibility remaining provided he elects to return to UNCW if he is drafted in the MLB draft in a couple weeks. One person who will not return next year is his double-play partner, shortstop Kennard McDowell.
"This is tough, not making it to a relational," said an emotional McDowell. "I have a lot to be proud of. I made to two regionals with these guys, made some good friendships and built relationships. I'm happy to end my career here in Wilmington."
A shortstop is often associated with being the de facto captain of an infield. When a team has a veteran player and leader like McDowell at that position, it reminds others of positives that can be found in times of adversity.
"On the bright side of it, the young guys get to go through adversity," said McDowell. "If they ever run into it in the future, they'll know how to handle it. It's definitely tough.
McDowell is one of eight seniors who will leave the program after this year. After two NCAA regionals, regular and postseason CAA championships, and too many wins (142 since 2014) to summarize here, there will be nothing but fond memories to look back on in time.
"[The seniors] played the day they came in here, they grew the program," said Scalf. "They were a part of a lot of winning teams. They were winners in the classroom. We expect them to back and continue to stay involved with the program."