MUSIC TODAY: UNCW graduate leading makeover at historic downtown theater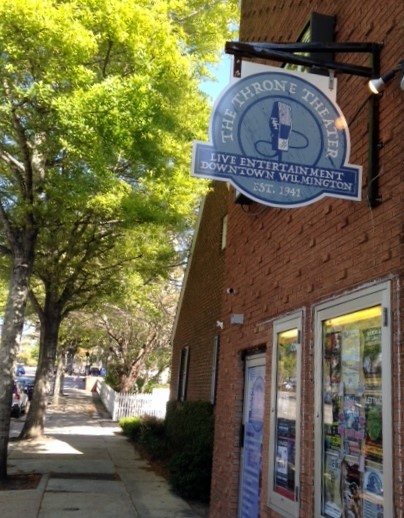 Calvin Shomaker, Copy Editor
April 6, 2017
When McKenzie Bass graduated from UNC Wilmington last May with a degree in communications studies, she was like most UNCW graduates entering the job market – a little uneasy and not wanting to leave the beach.
"I wanted to stay in the Wilmington area and I wanted to work in the music industry," said Bass, who is now the director of marketing at The Throne Theater downtown on the corner of Market and 2nd Street.
Bass started as an intern at the theater, but when a marketing position opened up a few months after graduation, she was chosen to fill it.
Now, Bass is working seven days a week to help transform one of Wilmington's most historic and lively concert spots into something fresh. The downtown heritage of Wilmington is still valued today, but change is necessary, and Bass is helping lead the makeover at The Throne Theater.
"We are in the middle of a big transition here," Bass said. "I'm kind of heading that and making sure everything goes well."
Since Jan. 1, 2017, The Throne Theater has been under new ownership with new management and a new staff. Bass says the theater is looking to rebrand with a new name and logo. A big grand reopening is expected.
On the inside, remodeling has already begun as the building's capacity is hoped to be expanded from about 650 people to nearly 800.
"We are remodeling and we are going to be completely new," said Bass, "I'm glad that I get to be a head of that. At 23 years old, most people don't get to say that they're director of anything, so I'm pretty lucky to be a part of this big transition."
This spring and summer The Throne Theater will host of series of concerts including artists such as Corey Smith, Jamestown Revival, Anderson East and Robert Randolph. The venue also has had comedy shows recently and is known to host a variety of events.
"One day it will be mosh pits, the next it's old people at the bar," said Bass. "It's so diverse here, which I love because you never know what you're going to get."
According to Bass, the building was built in 1941 and was a popular movie theater that showed Disney movies. Most locals say the old building is haunted. Bass agrees.
No doubt, The Throne Theater has an old-timey feel, but on the inside the sound system and its lights are brand new.
"Personally, I think our sound system is the best in town," said Bass. "The guy who set it up had just gotten off tour with Justin Bieber, so we have Bieber quality tour sound in here and we're haunted. Who else can say that?"
Upstairs, a second room and bar called The Abbey has been remodeled and now hosts parties, small scale shows and even catered buffets.
Other venues in Wilmington such as Greenfield Lake Amphitheatre and The Calico Room are hosting concerts throughout the summer, though Bass thinks The Throne Theater is more unique than the other venues in town because of its history.
Despite its old age, the theater is always changing and getting better, especially with its new staff and new vision.
"It's even better now," Bass said. "I promise you it's even better than the last time you were here – people say it all the time."
Notable Upcoming Concerts