Baseball's Golden named CAA Player of the Week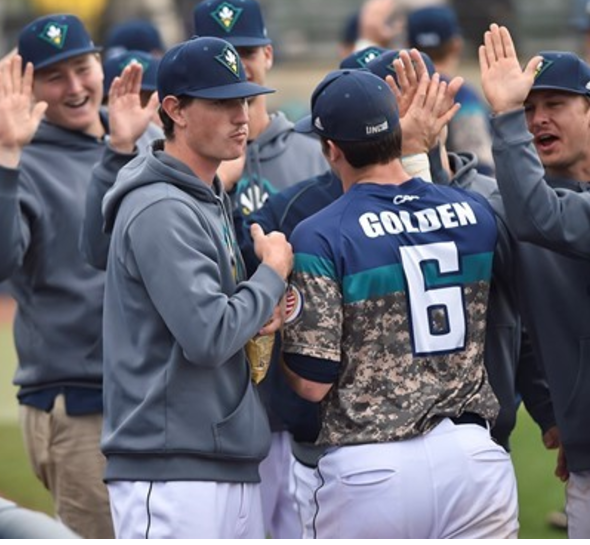 Hang on for a minute...we're trying to find some more stories you might like.
When UNC Wilmington baseball struggled early in the year, coach Mark Scalf opted to adjust his lineup by moving senior Casey Golden to the leadoff spot. The move has paid off, as the Seahawks have now won five of their last six games since the outfielder moved up in the lineup.
Golden was named Colonial Athletic Association Player of the Week following a weekend sweep of Virginia Commonwealth where he went 7-for-14 and homered in each game. After starting the year in the middle of the order, he has continued to ignite the offense from the top.
"I've lead off my freshman year and now that I'm back I'll do my best to do the job that day," said Golden after Friday's win over VCU. "I'll do whatever's needed."
He had seven RBI in the three-game series, including four in the Saturday game which was the largest individual RBI game for UNCW this year. While it is atypical for a leadoff man to have so many RBI, the production from the bottom of the order allows Golden to have those opportunities.
The bottom of the order is another area where Golden's ascension has greatly benefitted. When Golden moved up, centerfielder Robbie Thorburn settled back in the seventh spot where he hit .364 for the Seahawks last year.
"We did it to allow Robbie to relax and play. Casey was certainly our next best option to go there in the leadoff spot," said Scalf last Friday. "[Golden] has been more aggressive and his plate discipline has improved."
Golden leads the Seahawks with seven home runs, 14 RBI, and a .719 slugging percentage. The home runs and slugging percentage rank second in the CAA. When UNCW plays Maryland this week, expect Golden to be the catalyst that keeps the order moving.