Diamond Hawks complete sweep of VCU in 10-1 rout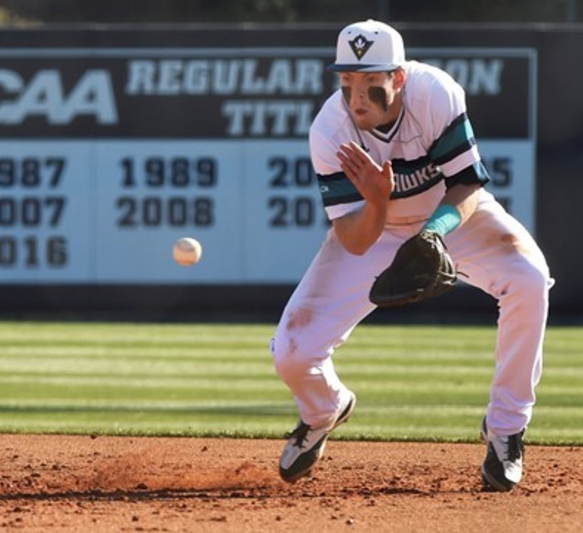 Hang on for a minute...we're trying to find some more stories you might like.
When the offense performs well, UNC Wilmington is the best team in the Colonial Athletic Association. When it performs like it did on Sunday, the Seahawks might be the best team in the entire country.
UNCW (8-9) concluded a weekend sweep of Virginia Commonwealth (10-10) with a 10-1 win on a windy Sunday afternoon. The win included four Seahawk home runs that allowed the team to further distance itself from a seven-game losing streak earlier this season.
"Up and down the lineup we received a bunch of contributions from a number of players," said head coach Mark Scalf. "I think we're starting to see some signs of confidence being renewed.
Seniors Kennard McDowell and Casey Golden hit back-to-back home runs in the third inning with McDowell's being a shot that cleared the left-field wall by several feet. It was McDowell's first home run of the season.
"[McDowell] has been working as hard as anybody over last two and a half weeks," said Scalf. "It takes time for those adjustments to carry over."
In the ninth spot of the lineup, McDowell went 3-for-4 with three RBI in the game. In total, the bottom three hitters in the lineup gave the Seahawks six RBI. It takes pressure off the top of the order to consistently carry the lineup when the offense can get that sort of production from the bottom of the order.
"We have a powerful top of the lineup," said McDowell. "To be able to give those guys some relief and add on down at the bottom to makes it easier on them."
As for the top of the order, its long been known they produce regardless of the situation. The quartet of Golden, Brian Mims, Nick Feight and Mason Berne each contributed an RBI, including Feight's line-drive home run in the seventh inning.
Freshmen Luke Gesell and six relief pitchers combined to strand ten VCU runners on base in the game. Save for a solo home run in the ninth inning by sophomore Brody Cook, the VCU offense had little success with bringing runners in.
"I just go out there and try to get outs," said Gesell. "We had a fresh bullpen today. Everyone did their job and it was really good to see."
Stat of the Day: UNCW has now homered in nine straight games. Golden's home run was his second in as many days.
Quote of the Day: "I think guys are starting to trust themselves and have more confidence in their abilities." – UNCW shortstop Kennard McDowell