UNCW baseball rallies past VCU, 5-4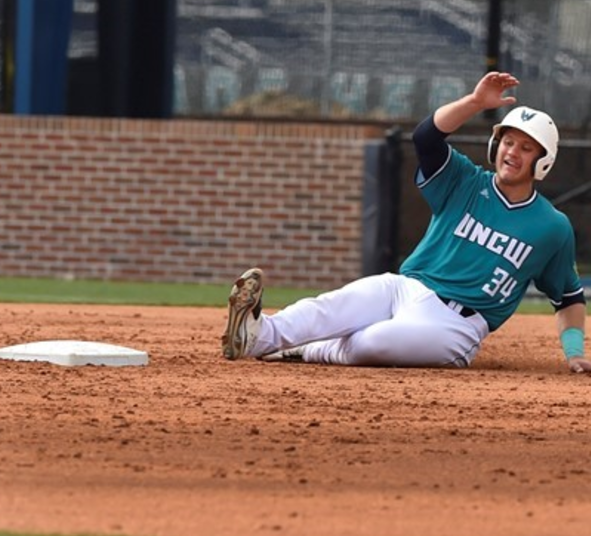 Brandon Sans, Staff Writer
March 26, 2017
UNC Wilmington basketball coach Kevin Keatts was not the only thing that got going Friday afternoon. After a prolonged slump, the UNCW offense finally broke through with runners scoring position to give itself a 5-4 win over Virginia Commonwealth (10-8).
"Our offense continued to put quality at-bats together and hand it off to the next guy," said head coach Mark Scalf. "I'm pleased with the way we played."
Sophomore Alex Royalty pitched into the seventh inning for the second time this season. Royalty attacked hitters early in the count, which allowed him to keep his pitch count down deeper into the game.
"I got out of the fifth inning with only 67 pitches and felt I had a couple left in me," said Royalty. "It helps our bullpen when I can go deep."
In arguably his best game this year, Royalty struck out six batters while allowing three runs on 90 pitches. After the game, he admitted to facing some struggles early this season as he adjusted to being the ace of the staff.
"It was a challenge at first, but I feel a lot more confident each week going out there and helping our team get wins," said Royalty. "There's a lot of high expectations."
In an effort to generate more offensive production, Scalf adjusted his lineup by inserting senior Casey Golden in the leadoff spot while moving senior Robbie Thorburn down in the order where he had success last season. Moving up in the lineup largely did not impact Golden's approach to the game.
"I try to get on base more," said Golden. "I'll do whatever's needed to do the job that day.
Both moves were successful as Golden went 2-for-5 with two RBI and scored two runs while Thorburn reached base three times including starting a seventh inning rally that put the Seahawks (6-9) up for good.
Thorburn singled up the middle and stole second to put himself in scoring position for the top of the order. Consecutive hits by Golden, Brian Mims, Nick Feight, and Mason Berne scored four runs in the inning.
Stat of the Night: Sophomore Clark Cota has yet to allow a hit in seven appearances on the mound, but has walked nine batters and given up one earned run.
Quote of Night: "Each team is different. This team is not the 2016 edition. There's different dynamics. Our pitching staff has the ability to be good and our offensive will continue to get better." –UNCW head coach Mark Scalf.