Run. Defend. Win (Again): reflecting on UNCW's historic basketball season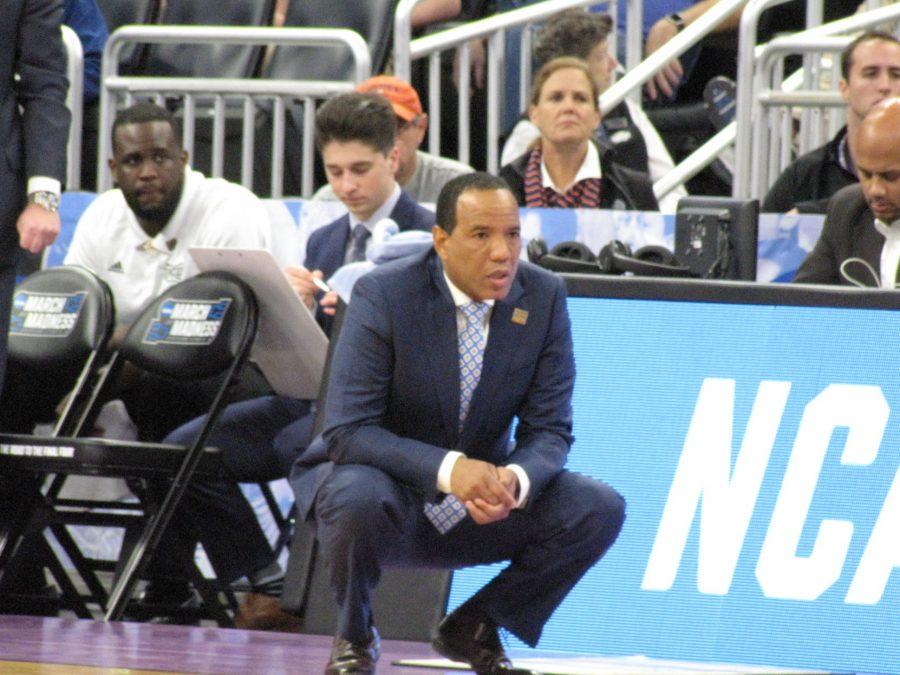 Noah Thomas, Sports Editor
March 26, 2017
For Kevin Keatts and his UNC Wilmington team, the 2017 season was all about living up to — and exceeding — expectations.
The rapid success the program has experienced in just three short years under Keatts is not unprecedented at UNCW. Jerry Wainwright and Brad Brownell won two Colonial Athletic Association titles each as Seahawk head coaches in the early-to-mid 2000s, but Keatts has done it more quickly and with his own recruits, whether it be high school recruits or transfers from other programs — something no one will be able to detract from his time in Wilmington.
After being picked to finish in the bottom half of the CAA in the two previous seasons, the Seahawks weren't surprising anyone with their play this year. The target on UNCW's back loomed large.
"It makes this run special," Keatts said after winning his second consecutive CAA Tournament championship. "It's so tough when you're on top and from the start of the season to the end, when your picked number one, to finish number one and that proves a lot about their character."
Keatts and his team exemplified their mantra: "Run. Defend. Win."
Run
Whether it was expectations set by fans, the media, or themselves, the Seahawks surprised at every turn and often did it in their own way. They took their own signature up-tempo style and turned it up a notch.
UNCW finished its season as one of the top scoring teams in the nation. It averaged 85.2 points per game, good for 10th-best in NCAA Division I and the fourth-highest in the NCAA Tournament.
High scoring turned into shooting opportunities for the free-flow offense. Four starters — C.J. Bryce, Chris Flemmings, Denzel Ingram and Devontae Cacok — averaged double-digit points.
Cacok made one of the biggest jumps in the country from his freshman to sophomore year. His minutes increased from nine to 26 per game. His rebounding (9.8 per game) and shot-blocking efficiency on defense led to him being named CAA Defensive Player of the Year.
No one expected the rest.
It was just a small sample of a much larger season, but in UNCW's last four games in 2017 Cacok went 19-of-22 (86.3 percent) from the field thanks to his presence inside for the Seahawks. This included going 5-of-6 vs. Virginia in the NCAA Tournament.
Cacok's final 80.0 field goal percentage set a new all-time NCAA record for a single season.
Defend
An aspect of UNCW's game that was overshadowed at times because of its offense, the Seahawks stole the ball from opponents an average of 6.7 times per game and blocked 3.4 shots per game.
UNCW's press defense was its biggest strength when shots refused to fall on offense. It forced opposing teams to play at a pace they would often be uncomfortable with. Those who were comfortable playing at a high pace often found themselves outmatched by the Seahawks' conditioning.
That was the case in their NCAA game vs. Virginia. UNCW scored 71 points against the Cavalier defense — well above the latter's 55 points allowed average.
The Cavaliers only committed eight turnovers in the game. But a majority of those came in the first half, allowing UNCW to build a 15-point lead.
"I thought we made those guys adjust to us," Keatts said after the loss. "Obviously, they had to go small. But you don't shoot 41 percent against a Virginia defense. They held 20 teams to 60 and under. I thought we did a great job."
It wasn't until Virginia's Marial Shayok scored a career-high 23 points that the Seahawks were unable to keep up. It was the second year in a row an ACC school put away UNCW thanks to a player overperforming in a tight situation.
Win.
The Seahawks rode momentum carried over from the 2016 season and went on to become the winningest team in program history.
At 29-6, UNCW broke the previous single-season record for wins in its regular season finale vs. Northeastern that was set a year ago. The Seahawks won their second consecutive CAA Tournament title — their sixth overall — and in greater style.
Beating College of Charleston in a virtual road game was the cherry on top of stellar CAA season.
A majority of the main pieces from the first championship team returned this season and formed a cohesive unit with new pieces and guys that stepped up in new roles.
Bryce's role expanded. Cacok evolved from a bench player to a star. Ambrose Mosley joined in after transferring from Old Dominion and became a 3-point-shooting machine.
They did it all as one big family.
"Since we got here, we definitely have been a family," said Flemmings. "Ambrose joining us fit straight in and just as a team, everyone has each other's back through good times and bad and I think that's what allowed us to be successful all season long."
Again.
What's next for UNCW basketball? No one really knows.
The Seahawks will lose a core group of seniors to graduation, but a strong group of underclassmen will fill those roles and continue to fulfill its potential.
A large recruiting class consisting of both high school prospects and junior college transfers will soon call Wilmington home. This includes Ty Taylor, a transfer from Wichita State that sat out this year due to NCAA regulations.
Perhaps the biggest question surrounds Keatts and his status as UNCW's head coach.
He signed an extension in 2016 that would keep him in Wilmington through the 2021 season, but his rising stock as an up-and-coming head coach has made him a candidate for lead positions at North Carolina State, Missouri, and Indiana.
Sporting a 72-27 record through three seasons at UNCW, Keatts has earned the right to consider other, bigger jobs that may be made available to him. However, his departure is far from a foregone conclusion.
Keatts has made it clear that he and his family love Wilmington. With a load of talent and the potential to lead the Seahawks to just their second-ever NCAA Tournament win, it may take the perfect opportunity to lure him away.