Reeves's game-winner lifts UNCW to 59-56 win over Towson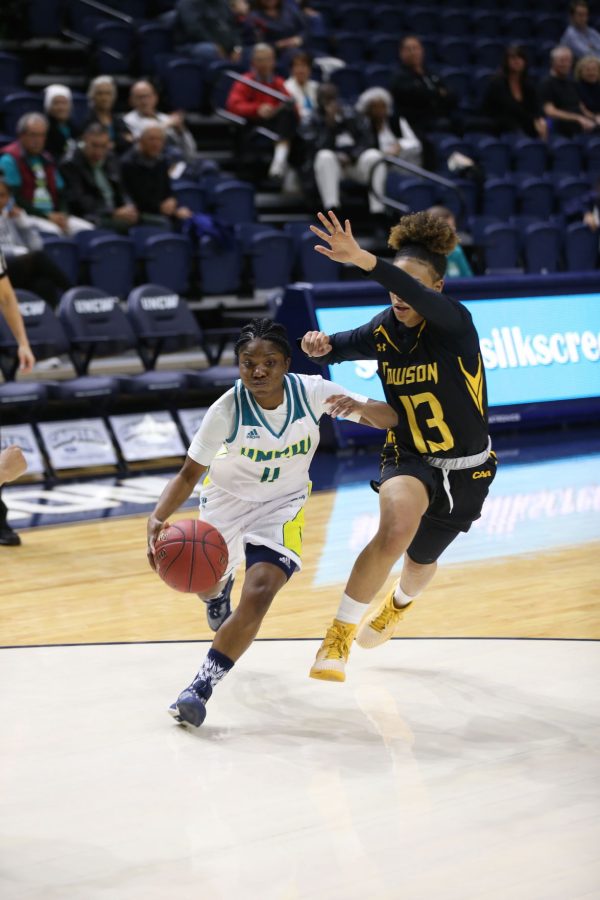 When the season concludes, people may point to Amber Reeves's game-winning shot as the moment UNC Wilmington's fortunes changed. UNCW escaped a close 59-56 battle with Towson to give itself a much-needed second Colonia Athletic Association win courtesy of Reeves's heroics.
"Really, really proud of my team for a well-deserved, tough, hard-fought win," said UNCW coach Adell Harris. "I feel like we deserved something good to happen and tonight was that night."
The Seahawks (7-12 (2-6 CAA) have now won two of their last three contests after dropping their first five CAA games.
The first quarter was a mostly back-and-forth affair as each team traded baskets before UNCW went on a 7-0 run and grabbed a brief six-point lead before Towson trimmed the lead down to 15-13 by the end of the first quarter.
Towson's bench nearly tripled UNCW's bench in points during the first half. Exactly half of the Tigers' total points at the midway mark came courtesy of their bench while the Seahawks' bench only mustered slightly above a fifth of their points.
UNCW took advantage of Towson's sloppy start in the third to go on an 8-2 run that featured a pair of three-pointers by Timber Tate. Tate would finish the quarter with 9 of UNCW's 15 points in the quarter.
On UNCW's final possession, Jasmine Steele drove to the basket and kicked it out to where Reeves knocked in the game-winning shot in with 1.5 seconds remaining to give the Seahawks the win.
"My first option was to try to score, but I kicked it to Amanda because she was wide open," said Steele. "I believe in my teammates."
There was no designed play called during the previous timeout. Harris gave full credit to Steele for making a play and to Reeves for coming up clutch in the game's final moments.
"I wasn't expecting the ball, but I knew if I got it I would have to shoot it so I was ready," said Reeves.
Reeves ended the game with 11 points while Steele finished with a team-high 12 points to go with six assists.
"We had three great days of practice. We came in and executed," said Reeves. "Coach has been getting on us about turnovers and rebounding, so to see it actually go through is a great feeling."
UNCW will look to add its third win in four games when it returns to Trask Coliseum on Sunday to face College of Charleston at 2 p.m.