SGA President Dan McCord reminisces on time at UNCW, looks toward the future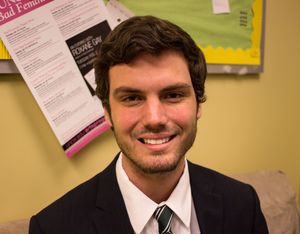 Casey McAnarney , Editor in Chief
March 1, 2017
As the student government elections continue and next year's members plan to make their mark on campus, UNC Wilmington's current Student Government Association president remembers the work that has gone into his term and what he hopes for UNCW and for his own future.
Dan McCord, current SGA president, is in his last semester as a student at UNCW. Over the past two school years, McCord has headed the student organization that impacts a lot of the development and work that occurs on campus.
In reference to his two years as president, McCord said that he does not know if he would call it a "legacy," but he hopes any impacts he has made will result in positive experiences for future students.
"I've learned that when you reach out to people and demonstrate that you truly care about their journey, you will be successful in everything you do," McCord said.
McCord mentioned that he came in with lots of ideas, and some of those ideas progressed while others did not. SGA currently has plans for over 1,000 new parking spaces for students and a renewed effort to improve diversity on campus.
These are just a few of the issues McCord has worked towards resolving and hopes will positively affect future students. He has been working on the parking issues facing campus for quite some time now, discussing with the UNCW Board of Trustees ways in which campus can offer more space for parking.
"On top of that, SGA is full of amazing people from all parts of campus," McCord said. "I'm especially proud of the people I've gotten to work with. They are the ones who have done truly great things."
With the current SGA runoff elections coming to a close and a new president soon to be named, McCord hopes the next administration will stay "true to themselves" and "remember that students come first." According to McCord, it is easy to get swept up in what happens on campus, so it is important to keep your values close and "trust in yourself to do the right thing."
Through his work with SGA over the past two years and through the incoming administration, he hopes the student body of UNCW will become more connected and more diverse. McCord finds that UNCW has a lot of wonderful communities on campus, and the more they become involved with one another the stronger the university will be.
"Of course, we already have an atmosphere of camaraderie, which can be enhanced over time," McCord said. "My hope is to also see a campus that better reflects the world around us."
Apart from being elected the president of SGA twice, McCord also won the title of homecoming king. To him, it was a huge privilege to be given this title. It meant a great deal to him to have this recognition because of "how important UNCW is to me."
"It was much different than getting elected, though. Being elected president made me feel hopeful and excited, as I knew people were in support of my ideas," McCord said. "Homecoming King felt more like the conclusion to my time here. I have come to love our school, and that's why it's so humbling to get this title."
McCord is applying to law school and to some prospective jobs. Law school has always been a dream of his and he is currently deciding if he wants to take off time beforehand or not. If he does take some form of a "gap year," McCord hopes to do an internship relating to public policy or something political.