Chancellor Sartarelli's words of wisdom for UNCW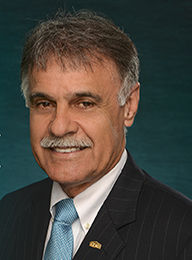 With the fall semester under his belt, Chancellor Jose V. Sartarelli sat down with The Seahawk to discuss the start of his time here in Wilmington, UNC Wilmington's plans moving forward, and his advice for all students as they continue through their educational journeys.
For Chancellor Sartarelli, this year marks the beginning of his strategic plan to better the university. His goals and standards for the university seem high, but with the help of his team– the faculty, staff, and students on campus– he plans to make great changes to UNCW.
"So far the goals that we've put our minds to from the fall semester have been achieved," said Chancellor Sartarelli about his first semester as chancellor. "We wanted to bring in a very robust and very good class of students, and we did."
Plenty of changes have already been implemented on campus, and the faculty and staff are working to continue making improvements. New academics include a PhD program in psychology and a doctorate program in nursing, which were approved in the fall of 2015.
While some are intimidated by change, Chancellor Sartarelli says that he has "always felt that behind every change, there is a great opportunity."
"Don't settle for 'Well, we're all average.' We want to be excellent at everything we do," said Chancellor Sartarelli. "Let's seek excellence. Let's do the best we can. Let's learn as much as we can. [Let's] study abroad. Let's go for a challenge and ask for a change."
Seeing and learning about other cultures of the world is something Chancellor Sartarelli speaks highly of. Once an exchange student himself, Sartarelli remembers it fondly. "It was a great experience. I came from a small community in Brazil to a small community in Texas… it changed my life."
UNCW offers countless exchange programs, from all over Europe to Africa to Australia. In addition to offering programs for Wilmington students to go abroad, people from all over the world come here to study as well.
A new group of exchange students just arrived this month, so if any Seahawk wants perspective or insight on other cultures of the world, they have options.
The pressures of adulthood and the future can be daunting for all college students. While it is easy to get on track to a stable or successful career, personal interests are important as well.
"As a young person, you've got a lifetime to do whatever else you want to do," said Chancellor Sartarelli. "Start putting into your brain those stimuli that will stay with you forever. The richer that stimuli, the better."
As for our time here at UNCW, Chancellor Sartarelli says to "make your life richer. Make it multidimensional. That's what makes it special. That's what college is all about."