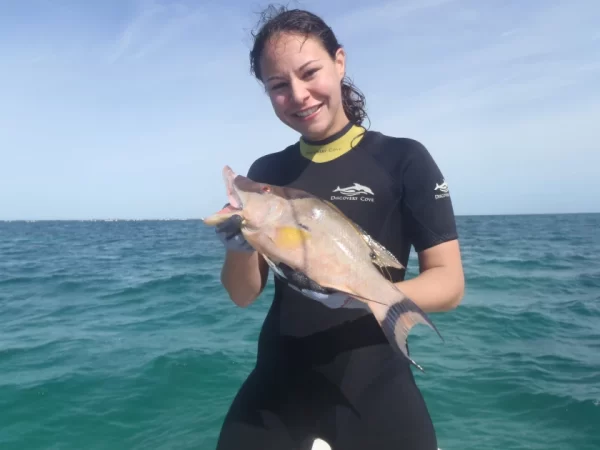 On Aug. 22, UNCW biology and marine biology assistant professor Dr. Lorian Schweikert and her lab published a study in the scientific journal  Nature Communications. The study is the culmination of a seven-year project aimed at exploring how the hogfish senses its surroundings. Unlike most other fish, it can dynamically change its skin color.
The hogfish is a large, tropic fish that gets its name from its rounded, pig-like nose. It primarily lives in and around coral reefs spanning from the Floridian to upper South American coastlines. The hogfish draws much attention from fisheries and their managers because it is valuable to recreational and commercial fisheries.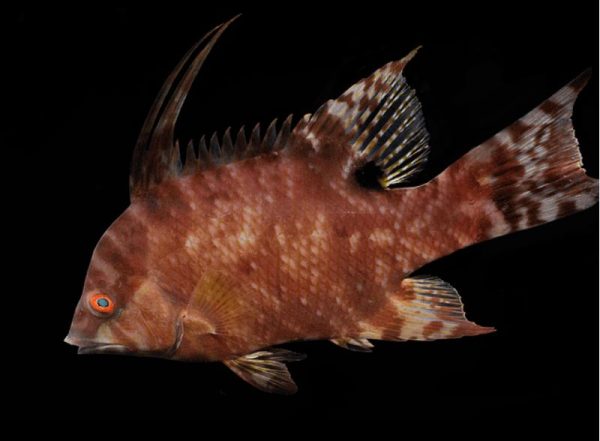 Until now, the scientific community not understood how the hogfish carries out or regulates this process. Schweikert and her team revealed that it has specialized dermal cells and proteins that allow it to effectively "see" through its skin by sensing and potentially reacting to incoming light, which scientists call dermal photoreception.
According to Lydia Naughton, a co-author of the study and Schweikert's third-year PhD student, Schweikert first encountered the hogfish while fishing in the Florida Keys in 2016. After catching one, she noticed it changing color. After witnessing the change, Schweikert began to suspect that the fish was sensing its surroundings through its skin. "[She became interested in] starting to establish the hogfish as a study system for dermal photoreception," Naughton said.
Schweikert, who was unable to comment for this story, began using genetic testing methods to investigate the hogfish in her lab. She and her team discovered that it has three kinds of color-changing cells called chromatophores, which form a layer of skin above the fish's scales. These cells contain pigment molecules that can either be arranged in tight clusters or loosely spread throughout. Based on how tightly these pigments are grouped inside of its chromatophores, the fish can achieve a light white, dark red or mottled appearance overall.
Schweikert then started testing for the presence of proteins called opsins in the hogfish, which are usually found only in the retinas of animals unable to change color. These proteins are sensitive to specific wavelengths (i.e., colors) of light and can also be found within the chromatophores of the select few animals capable of dermal photoreception and color change. Schweikert found that only one particular opsin, called SWS1, could be found in the hogfish's skin. Unlike these other animals, the hogfish's SWS1 opsin was located in a new kind of cell, which she found directly below its chromatophores.
"This was huge in the field of dermal photoreception research," Naughton said. "To see [the opsin] in a potentially unique cell type was really exciting."
Using an electron microscope, which allows for very close-up and high-resolution imaging, Schweikert and her team demonstrated this new kind of cell has a densely folded cell membrane with a large amount of the SWS1 opsin within. Because this paralleled with the retina's structure, it led them to suspect that these cells may be specialized light receptors.
"[This] was really a hard-hitting point for evidence in favor of specialized dermal photoreception," Naughton said. "You have to have high-density expression to detect photons of light."
Because these SWS1-containing cells were found in close, consistent arrangement with the chromatophores, Schweikert and her team believe the two cell types may be communicating via a feedback loop, allowing the animal to monitor and regulate its own color change.
"The photoreceptors [may be] taking a picture of what the chromatophores are doing," she stated. "It's helping them to optimize their performance."
According to Jacob Bolin, who helped design a positive control for the SWS1 opsin as an undergraduate, the next phase of the project will involve testing exactly if and how the chromatophores and new photoreceptor cells are interacting.
"It makes sense for it to be a feedback system," Bolin said. "But how is that feedback getting to an actual effect on the cells, on the body and on the chromatophores?"
Naughton's next efforts in her PhD work will involve exploring these questions. She wants to uncover if these SWS1-containing photoreceptor cells are receiving and reacting to different light information based on the arrangement of the pigments in the chromatophores above them.
"[I want to look for] synapses between the photoreceptors and the chromatophores… and projections back to the central nervous system," she said. This will help her answer if these new cells are truly responding to light and communicating this information with the chromatophores or other parts of the body.
Naughton also wants to discover how vital this dermal photoreception could be to the hogfish's ability to change color. "[We can] inhibit photoreceptors in the skin and see if that impacts color change performance," she said.
If the hogfish is still able to efficiently change color despite losing this feedback from the SWS1-containing photoreceptors, it could mean that these cells are playing a different role for the animal or are not involved in regulating the color change performance.
Naughton believes that understanding the hogfish's natural feedback system could be important to the business and technology world, specifically in the development of self-driving cars and other new technologies.
"Companies love feedback systems," she stated. "If we can better understand how they work naturally in biological systems, it can enhance the development of systems that can check their performance and really have optimal outputs."
Bolin agrees that this discovery could lead to improvements in technological systems. He is also interested in the fact that the hogfish may be interacting with reality in ways that humans and other animals cannot.
"For me, it's so interesting to just think about how different animals sense and perceive the world around them," Bolin said. "People think very human-centric. [But] there could be completely different ways of seeing the world."
To learn more about Schweikert and her lab's discovery of dermal photoreception in the hogfish, follow these links to her Aug. 22 publication or her lab website.