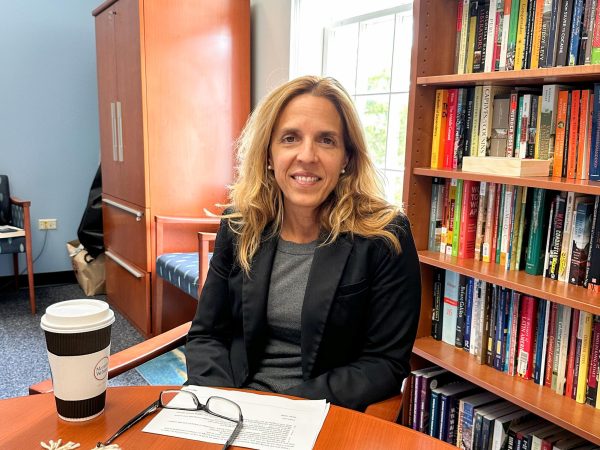 It takes a special person to actively seek ways in which they can improve others' lives. The University of North Carolina Wilmington (UNCW) has an interim Honors Director who does exactly that and more. Dr. Eva Mehl has impacted the lives of her students in various ways.  
Mehl was born in Columbus, Ohio. Her family moved to Alicante, Spain when she was three years old. She has family all over Spain and enjoyed growing up there. She completed her bachelor's degree and PHD in European history in Spain. She published three books covering her research about Jesuits and religious orders in China and Mexico. Mehl moved back to the United States in her late twenties to work on her post-doctoral degree. She attended University of California Davis (UC Davis) where she applied for her second PHD in Latin American history.  
Mehl has a strong work ethic which she credits to her father. Her parents live in Spain, and instilled important values of hard work in her from a young age. 
"My mom didn't go to college, but my father did. We have a lot of things in common," said Mehl. "With my mother, we were always clashing. I love both of them to death, but with my mom it was more of clashing personalities. My father and I are very much alike. He always has a very strong work ethic and is a hardworking person. He is very level-headed. I tend to have my mom's character sometimes, getting carried away by passion and temperament, and my father always was the neutral one. Many times when I'm making decisions or taking an action, I think about what [my father] would do."  
Mehl and her father share a love for history. She always knew she wanted to major in history because it made her happy. She decided that teaching history was the career she wanted to pursue and knew she wanted to teach at a college level.  
"It was generally a love for going back in time in my mind. I loved to read about medieval times and ancient times, like the Greeks, Romans, and Egyptians. I loved every chronological period," she said. "Then college time came about, and in Spain it is different. You do not do many [general education classes] because you start with a major. I went with history from the beginning." 
Mehl noticed many differences in the college culture between Spain and the U.S. In the U.S., it is typical to live in a dorm with a roommate and move away from home. In Spain, most college students live at home. Students in Spain often attend classes at their university during the day and do homework and study when they get home. When Mehl attended UC Davis in California, she had a roommate for the first time, and had to adjust to the challenges that came with this.  
Another difference in college education between Spain and the U.S. is class style. Classes in Spain are typically in lecture style, and Mehl was used to her classes in this format because she completed most of her education in Spain. In the U.S., classes are interactive and discussion based which was an adjustment from what she was used to.  
In addition to the change in class formats, Mehl had to adjust to English as the common language. Spanish is her native language and is what her brain is attuned to. She can communicate and understand English, but there is additional effort involved. She finds it is easier for her to connect with someone who speaks Spanish compared to someone who speaks English because it requires less energy. She must choose to actively listen and process what an English speaker is saying because she can naturally ignore it. 
"In my brain, it is like it goes through two different filters. One, understanding grammatically what you are saying and two, understanding the meaning of what you are saying," she said. "No matter how many years I have been in this country and speaking this language, it is still an extra layer of difficulty to process English." 
"In meetings especially, sometimes nuances are lost on my part or others' part because of the language and the accent," Mehl said. "Even if the conversation is pristine clear grammatically, the choice of words might be different in English and Spanish. Sometimes I lose nuances that turn out to be key pieces of information. I often have to ask questions more than once to make sure I understand something."
This difference in language does not make life impossible, it just adds a little more work. Mehl did not let this impact her determination.    
In 2011, Mehl was hired at UNCW as a history professor on a tenured track, meaning she teaches classes and publishes research. She published a book from her research about the deportation of Mexican convicts from Mexico to the Philippines in the 1700s and early 1800s. Publishing research takes years of time and effort, and she wanted to do something where she can see the results of the effort she exerts. 
"I was getting a little bit exhausted with that," Mehl said. "It is so much time and so much work to produce one thing or book that if I got lucky would be read by a dozen people in the nation."  
Mehl was hired as the Associate Director of the UNCW Honors College in 2019. She wanted to try something new, and she knew she enjoyed finding ways she could fix or change a process for the better. In this role, she implemented a new course for honors students. 
"Administration always attracted me because if I'm going to be working 12 hours a day, why don't I do something that has an immediate effect on somebody else," she said. 
All honors students are required to publish a thesis during their senior year. In the past, many students would drop the honors program due to this requirement. Mehl suggested a thesis prep course for honors students to take in their junior year. This class is designed to explain what a thesis is and teach students how to approach it. This course has been in place for over two years, and Mehl believes it gives students a better understanding of the thesis process.  
A memorable experience for Mehl is taking honors students abroad. She brought them to Spain and showed them her hometown and her favorite places. Many of her students had not been out of the country before, and she enjoyed seeing their reactions and interpretations of places where she grew up.  
"I know every street by heart," she said. "I know which restaurant is around the corner. To show those places I know so well to students there for the first time is one of the most satisfying things I've seen in my life."  
Mehl has now taken on the role of Interim Honors Director. She is hard working and student focused. Everything she does in the Honors College is for the students and to make the program more effective. Her ambition impacts the lives of her students because she instills a strong work ethic in them just as her father did in her. Mehl continues to Improve UNCW's Honors College by providing enriching experiences to its students.