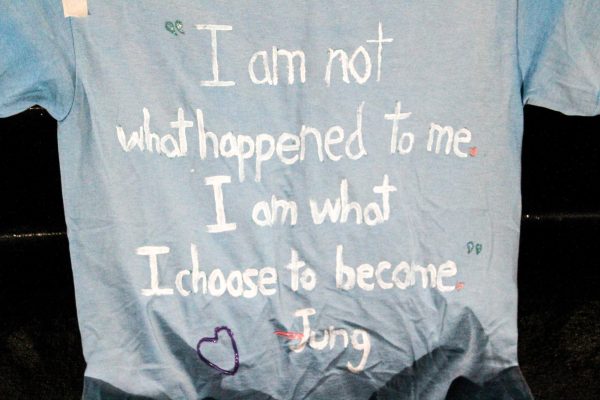 Each year, the month of October is recognized as Domestic Violence Awareness month; on Oct. 9, UNCW held its third annual Take Back the Night Rally to show support for victims and raise awareness about domestic violence.
The evening began with students and faculty gathering at the amphitheater outside of Fisher Student Union. Upon arrival, students were encouraged to decorate t-shirts with uplifting messages of support for victims of interpersonal violence. Later in the evening, students and faculty began their march around campus.
The Student Government Association's (SGA) Director of Health and Wellness, Bailey Frank, described the premise behind Take Back the Night.
"Take Back the Night is a worldwide movement…October is Domestic Abuse awareness," said Frank, "it [the event] is to show university support and bring awareness to domestic violence and all forms of interpersonal violence."
The event was coordinated by UNCW's center for Collaboration for Assault Response and Education (CARE). Carolyn Greenway, a Peer Coordinator for CARE, explained why she loved being a part of the event.
"It is really awesome seeing so many people caring about these issues. I love being a part of something like that" said Greenway "And I think it is really importance to keep awareness up and this event really highlights it."
T-shirts from the event were collected as part of UNCW's Clothesline Campaign. The Clothesline Campaign provides opportunities for students and staff to write messages of encouragement and support to victims of domestic violence, sexual assault, stalking and other forms of violence.
The campaign happens twice year on campus, once during October for Domestic Violence Awareness month and once during April for Sexual Assault Awareness month.
The Lead Advocate for the CARE center, Tanya Smith, explained why she believes movements like these are necessary.
"I think this movement is important because there are so many times that people don't feel supported, they don't feel seen they don't feel heard, they don't know where to go for support to access to resources any of those things," said Smith.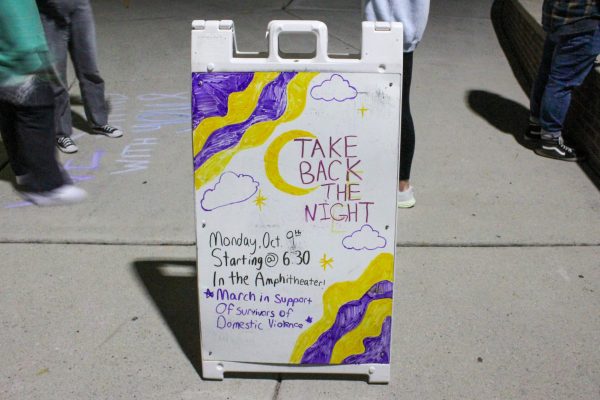 The walk began at Fisher Student Union, moving to the Seahawk Quad and back. Marchers waved glowsticks and phone flashlights, illuminating their Chants such as "break the silence, end the violence" echoed through the air.  However, not everyone on campus reacted positively to the marchers. Freshman Riley Estby described a negative encounter with a driver who passed by the march.
"We were marching to the freshman quad," said Estby, "we were on Riegel Road and a guy in his car [told us to] and threw what I assumed was a tennis ball. I confirmed that when [the event leaders] held [the tennis] ball up at the end with pride."
Etsby says that reactions like these highlight how crucial raising awareness about domestic violence is.
"I believe that this an important event to have on campus to showcase that there are other people out there that truly believe you and that you are not alone" said Estby.
Feminist Student Alliance (FSA) member, Ayanni Reese stated that events like Take Back the Night should continue to be held because people are not always correctly educated in the way she believes they should be.
"This event specifically is to give and uplift voices that are often unheard. And instead of talking for them we are allowing them to talk by walking and being there for them," said Reese.
Any UNCW student who has been impacted by any form of interpersonal violence can reach out to the CARE office. They can be reached via phone at 910-962-2273 or via a visit to their office on the second floor of DePaolo Hall.