UNCW introduces four new deans for the 2023 school year, representing the College of Health and Human Services (CHHS), the College of Science and Engineering, the College of Humanities, Social Sciences, and the Arts and the Watson College of Education, which is currently being run by interim dean Carol McNulty.
CHHS encapsulates nursing, clinical research, social work and the school of applied health and human science. It was formed in 2010 by Dean Charles Hardy, who led the school until his retirement this past year. Dean Jack Watson II's first day at CHHS was June 26, but he prioritized health and wellness for students long before he started his position. He states that everything CHHS stands for, as well as student success, are very important things in his family life.
"As a family we have a strong focus on health, wellbeing, and health equity," Watson says. "It's a big part of what we talk about around the dinner table."
Watson's current goals as dean are what he calls "passion projects." He says that the most important items are a grant application for the New Hanover County Endowment, as well as working on current nursing shortages in the Eastern NC Area. He also hopes to add some new programs, including a Doctorate in Physical Therapy, as well as a Masters in Physician's Assistant. There are a few ideas that Watson wants to emphasize as he comes into his position.
"We are also going to need to work on our strategic plan this year," Watson explains. "The university just updated their strategic plan, and we need to do the same. We need to make some progress on identifying really what our goals are as a college."
Ronald Vetter is the new Dean of the College of Science and Engineering, which recently split from the College of the Arts in July 2023. Vetter states that the decision to split has been discussed for the past 20 years.
"We still have programs across the colleges," Vetter explains. "These colleges are just places for those; they are artificial lines."
Vetter also stated that the split between colleges will allow faculty to focus more on students in their specific college and that "the student experience won't change." He says many students will continue to be able to incorporate programs across the colleges, like computer science with art history or cybersecurity with the Cameron School of Business.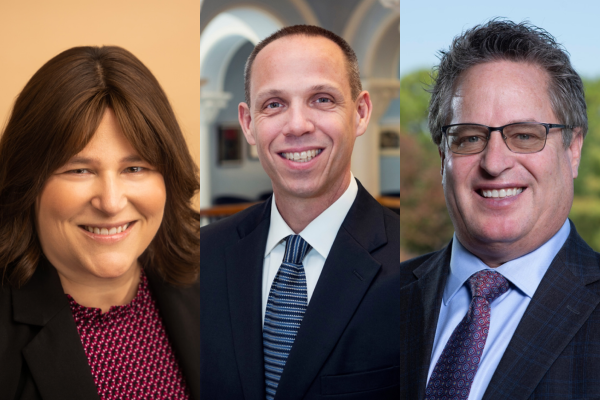 Vetter himself is a self-made businessman. His text messaging application called Mobile Education ran from 2007 to 2017. The idea originally came to Vetter shortly after the Virginia Tech school shooting in 2007, when he realized that texting apps across campus were necessary for student safety. Vetter states that his app was functional and a great success for him, and that many of his students got to experience it and use it as well.
"It wasn't just about having a business. It was about giving students opportunities," Vetter explained.
Vetter also has goals to expand the college through grants, hiring and new programs for students. He hopes to make the College of Science and Engineering fresh and updated with marketing, a mission statement and a tagline. Vetter is hopeful about the future of the college and says he is excited for a fresh start.
"This is the first time that we have this new entity," Vetter said. "It's a new opportunity to rethink the way we've been doing things."
Dean Stephanie Caulder represents the College of Humanities, Social Sciences and the Arts on campus. She too is excited about the new opportunities within the college and wants to prioritize her students and their goals throughout school.
"My overarching goal will be the same throughout my tenure as Dean – to support and advocate for our students, faculty, staff, and the important work happening within our college."
Caulder mentions that the famous George Lucas, filmmaker and director, said humanities and arts often ask the "why," and science and technology ask the "how." She believes this is true for both colleges on campus, and that you cannot have one without the other.
"All of our disciplines are connected by what it means to be human," Caulder explained.
Caulder hopes the college expands their interdisciplinary programs, research and creative avenues for students to explore. She herself is a first-generation college student, along with Dean Vetter, and says she wants to give students the opportunities that she was lucky to have.
"The ability for me to give back and be a small part of helping our students have a similar transformative experience seems like the least I can do to repay all that I have received."
Like Vetter, Caulder states that the split between the College of Arts and Sciences will allow her to better focus on her responsibilities and allow her to be "a full-time advocate." She says the previous administrations for the College of Arts and Sciences have been integral in forming the foundation of what this new school gets to be.
"We have an amazing faculty and staff in CHSSA who are highly dedicated to serving our students," says Caulder. "It is a joy to come to work every day and we are all singularly focused on the student experience and their success."